The following content is sponsored by The Century Council and The Motherhood.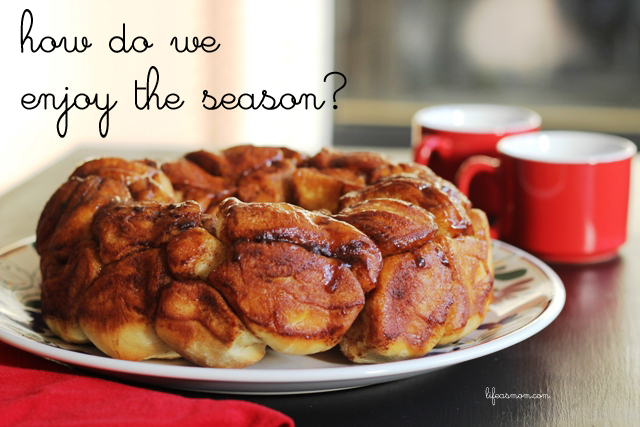 Last week's rain and our family trip to the movie theater kind of inaugurated the Christmas season for us. I approach this time with great fear and trepidation, however. I want the month to be one of good times with my family. I don't want to overdo. I want to be cool, calm, and collected.
There have been too many years where I acted like a crazy woman at the holidays.
Research shows that the average American spends 42 hours on holiday activities at this time of year. I'm guessing for many of us it's quite a bit more. In the midst of traveling, decorating, buying gifts, and hosting and attending holiday parties, it can be a challenge to find a few relaxing moments to yourself.
You're invited.
I'm helping to promote a Twitter party sponsored by The Century Council and its Talk Early program, a leader in the fight against underage drinking, to share suggestions for slowing down, managing holiday stress, and finding "holiday zen" this season.
Note: they don't mean "practicing-Buddhism-kind-of-zen", but rather being intentional about stress and time management during a crazy season.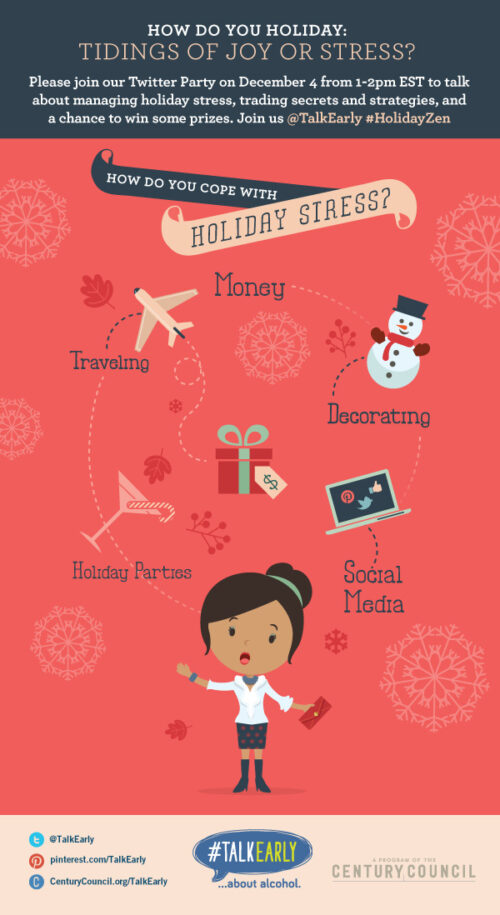 You're invited to the party! And we promise not to stress you out. You don't even have to get dressed up for this holiday party.
I've found that Twitter parties can be a great way to get some great ideas, so I'm looking forward to the chat on Wednesday, December 4, at 1p ET / 12p CT / 10a PT. You can follow the #HolidayZen hashtag to track the conversation. Go here for more details.
The party hosts (@TalkEarly, @theMotherhood, @theMotherhood25, @CooperMunroe, @EmilyMcKhann) will randomly award five prizes throughout the party, from all eligible correct responses to trivia questions. Each prize includes a $50 VISA gift card. (No purchase necessary. Entrants must be legal residents of the 50 United States + D.C. 18 years of age or older. Void where prohibited.)
Disclosure: I'm partnering with The Century Council and The Motherhood to share information about this twitter party. I've been provided with financial compensation. All opinions are my own.