Brave Writer Help for High School is one of the new items of homeschool curriculum that we're using this year. I'm excited for my teen boys to go through this self-paced course. This giveaway is now closed. Congrats to the winner: Berzina@
This post is sponsored by Brave Writer. I have been compensated for my time spent writing as well as given sample product.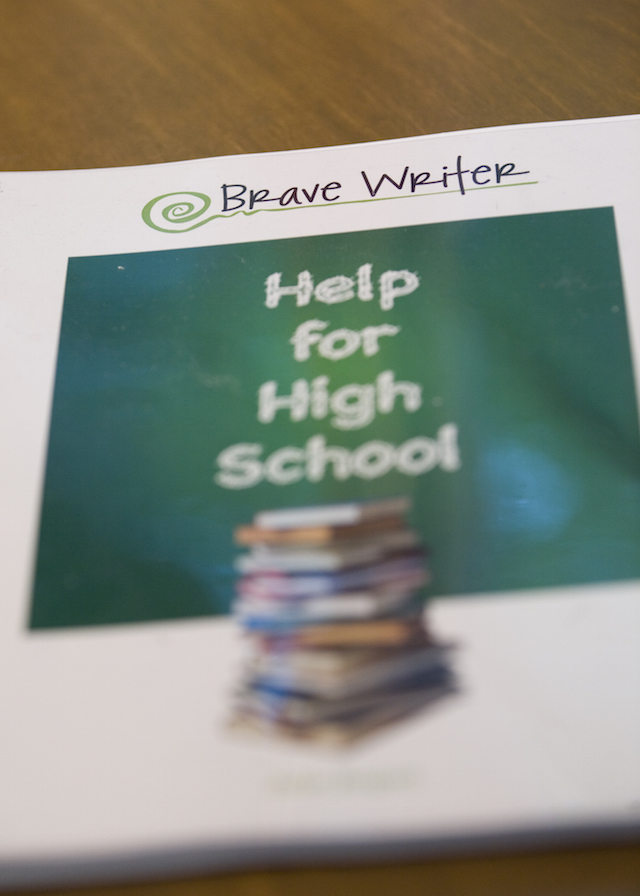 For the last few years, Brave Writer online classes have helped my eldest son improve his writing skills. FishBoy18 started taking these classes in the fall of his junior year in high school, at a time when I was overwhelmed by school, work, and life in general.
Honestly, I was embarrassed that the cobbler's kids had no shoes. I mean, that me, the writer wasn't finding/making the time to teach her kid to write.
While the classes are not cheap, they were totally worth it. Last fall, I required my son to take the College Application Essay class. It finished right before we left for France. We came home in a flurry with tons to catch up on. Filling out the college applications happened the Friday of the weekend they were due. I was kinda in a panic.
This was our first rodeo and what do we do about the essay?!
I hadn't had a chance to review it any sooner, but when I read that essay, I was speechless. It was amazing. Whew. I didn't ruin him. He had taken a very common place, every day event and turned it into a profound piece of writing. Certainly he did the work, but I can't help but credit the Brave Writer Classroom for giving him the tools to do so.
My eldest student is now a sophomore. FishBoy14 has taken a few of the Brave Writer online classes, but the offerings in the fall schedule don't really fit what we need at this time. I was super relieved to find another, less expensive option: Brave Writer Help for High School.
Brave Writer Help for High School is a semester long self-teaching guide to writing. The exercises develop the rhetorical imagination and teach the expository essay (both exploratory and argumentative). The digital manual also helps teens learn how to think, argue, and create their own powerful writing style.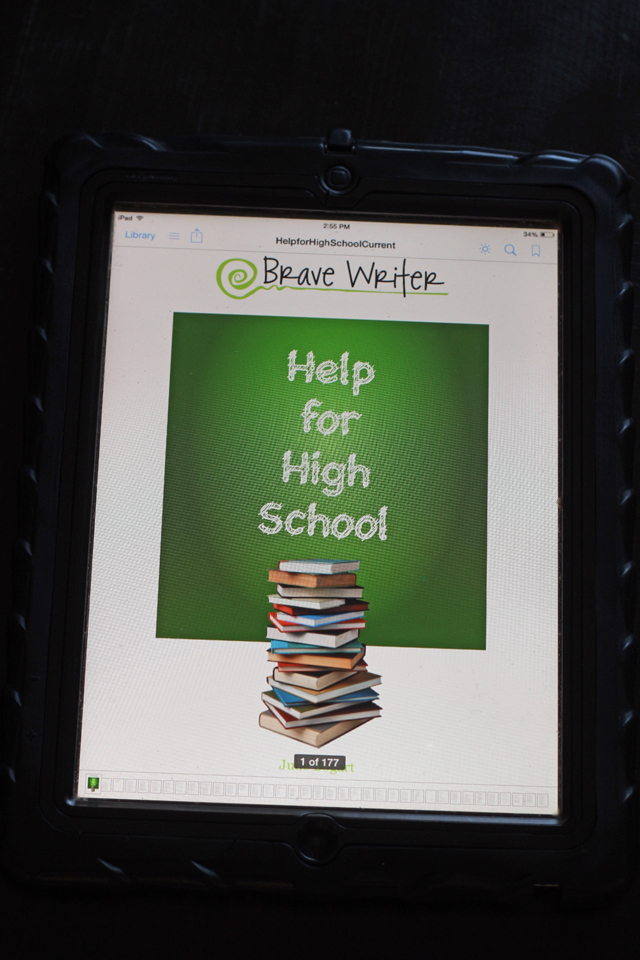 Brave Writer Help for High School is the home study course of the two online classes: Kidswrite Intermediate and Expository Essay. My two older boys have taken both of those classes. The online versions are more expensive but offer continuous feedback and discussion with an instructor. If you need to delegate completely, sign your kids up for the online classes.
If you've got the time to give feedback and look over their writing, then Brave Writer Help for High School just might be the ticket.
I am thrilled that this curriculum is designed for the student to read and walk through independently. I don't have to read it and figure out how to teach it to him. I'm still not out of the Sea of Overwhelm, so I still need some outside help. But I hope to be enough above water that I can give my son feedback as he works through this curriculum.
At the end of his last online class, we discovered that he's got some gaps in grammar skills that are holding him back from doing his best. While Brave Writer does offer a grammar class, it's not really the job of the composition teacher to give him remedial help. So, while we're working on grammar this fall, he'll be working his way through Brave Writer Help for High School. My optimistic plan is that my 8th grader is in a good spot to dive into this course as well.
Online registration starts on Monday (August 3, 2015) so for best choice of classes, sign up early. One great option for getting your feet wet is a family class, where you pay one price for everyone. We did the Super Heroes Film Discussion Class a couple years ago, and it was really good. Watch the movies as a family, then have your kids engage with the instructor (in writing!) about the film.

Win a copy of Brave Writer Help for High School!
This next week one Life as MOM reader will win a free digital copy of Brave Writer Help for High School.
To Enter:
Simply complete the information on this form. Please know that the information is only being gathered for the purposes of mailing you your prize in the event that you are chosen as the winner. This information will not be sold, traded, or given away.
This promotion is open until Sunday, August 9, 2015 at 8 pm PST and is limited to US residents, 18 years or older. One entry per person. Friends and family of Jessica Fisher and Life as MOM are ineligible for entry. The winners will be chosen randomly. This post will be updated with the beginning of the winner's email address. The prize for this promotion is provided by and shipped by Brave Writer and/or its representatives. Jessica Fisher and Life as MOM will not be held responsible for unclaimed or undelivered prizes.
This post is sponsored by Brave Writer. I have been compensated for my time spent writing as well as given sample product.