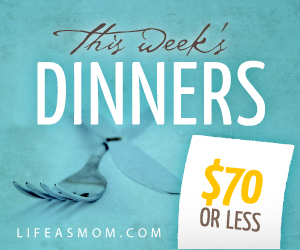 Are you looking to get dinner on the table quickly, easily, and under budget? Well, This Week's Dinners for $70 or Less pretty much fits that bill.
The free printable meal plans provide you with a road map for dinner time, including a budget grocery list, quick tips for prepping, good cheap cheats for trimming the bill, and a make-ahead prep list.
These meal plans offer you a one-stop shopping trip as well as a go-to list for getting supper on the table in a snap.
Please let me know what kind of meal plans you'd like to see. Want to make your own meal plans? Take Meal Planning 101, my free online course that teaches you everything you need to know.