Budget Living: Bake Your Own
We are a participant in the Amazon Services LLC Associates Program, an affiliate advertising program designed to provide a means for us to earn fees by linking to Amazon.com and affiliated sites. We participate in other affiliate programs as well. For more details, please see our disclosure policy.
Cake!
You knew I had to say it. After all, I've been waxing eloquent all week about the benefits of baking and decorating your own celebration cakes. (If you missed it, check out the Birthday Cake Round Up to see some great cakes made by readers and to leave your own link.)
But, let's talk dollars and sense. Dollar $igns often speak louder than anything else.
Yesterday was FishPapa's birthday, and we celebrated with a Chocolate Cheesecake. Oh my! This thing is gooooood! And very easy to prepare.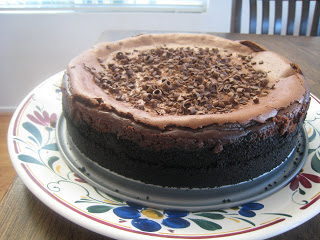 If I were to buy him a comparable cake from Cheesecake Factory, I would pay upwards from $42.95 for a 10-inch cake.
I baked my own with ingredients that were not on sale. (Yeah, I know. Sacrilege. But, I needed these items. Anyway, moving on….)
Here's the cost breakdown:
$2.50 package chocolate cookies
$2.00 2 blocks cream cheese
$0.30 3 eggs
$0.15 sugar
$2.50 chocolate chips
$1.25 whipping cream
$0.30 butter
This totalled $9.00 – no tax on food in the State of California, thank you very much!
Nine bucks for a fantastic cheesecake! And that is with non-sale ingredients. Imagine how low you could get this price if the cookies, cream cheese, chocolate chips and whipping cream were on sale. That is one bargain cake.
I don't pretend to be as good a baker as Cheesecake Factory, but my point is that you can make "good enough" at home for a lot less money.
What do you make at home that saves you money? Tell us in the comments.
Related:
Wanna Make a Pretty Cool Cake? Buy the Ebook.
Birthday Cake Round Up
Presenting the Indiana Jones Birthday Cake
Chocolate, anyone?
For more frugal tips, visit Frugal Friday.