A Frugal Valentine or Other Sweet Treat
We are a participant in the Amazon Services LLC Associates Program, an affiliate advertising program designed to provide a means for us to earn fees by linking to Amazon.com and affiliated sites. We participate in other affiliate programs as well. For more details, please see our disclosure policy.
A mom I met at the WholeHearted Mother Conference last week did some great planning ahead. Laura found out the names of all the ladies at our table and put together some sweet treats to leave at our places in between breaks. Chocolates, Scripture, and encouraging words, what more could a mom want?
Here's one that made it home intact.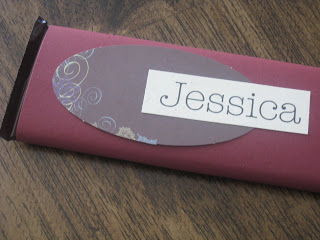 Laura simply cut a strip of scrapbook paper, folded it around a candy bar and embellished it with a paper cutout and my name. It is so simple — but it looks so much fancier than a plain old candy bar. And knowing that she had put some thought into it made the gesture so much sweeter.
I realized that this would make a great Valentine gift. It's very budget friendly as these candy bars regularly go on sale for $.25 or less at CVS or Walgreens. And chances are you probably have some paper craft supplies in the house, whether you like to scrapbook or not.
But, you don't have to do it just for Valentine's Day. What a great thing to stock up on for spontaneous little gifts for friends, kiddos, and hubs — anytime of the year. Just a little something to say "I love you."
What's a little treat that you've received lately that brought a smile to your face?
Related:
For more frugal ideas, visit Frugal Friday each week.