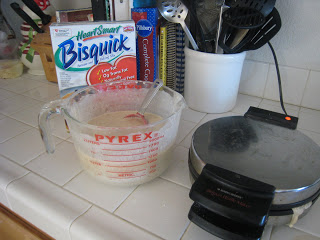 As you may already know, Fridays are Waffle Day around here. And under usual circumstances, I make them from scratch. But, in case you hadn't noticed, flour is kinda pricey these days. I stocked up in November, but it only lasted a few months. Recently, however, I found Bisquick (on sale after coupons) for $.25/box! I could not pass it up, not with flour being worth its weight in gold.
I bought the "healthy" Bisquick, but I found myself lamenting that it wasn't healthier. I mean white flour? Oh the guilt. But, then I realized that I wasn't restricted just because it was a mix. Instead, I decided to give my Bisquick a boost. Not only did I add flax seed and wheat bran, I also mixed in some sugar and cinnamon for extra flavor. These waffles were a hit and tasted so much better than your average mix.
Here's what I did to take a bargain and make it a little more:
Not So Bad for You Waffles
2 cups Bisquick
2 Tablespoons flax seed meal
2 Tablespoons wheat germ
1/2 teaspoon cinnamon
2 Tablespoons sucanat or brown sugar
1/4 c. oil
1 1/3 cup milk
1 egg
Whisk dry ingredients together in large mixing bowl. Add wet ingredients and mix until well combined. Cook in hot waffle iron.
The kids and I "duded up" pancakes as well. Check out our little video here.
Related: For more ideas on frugal living, visit Crystal's blog every Friday.