Lately, it's been pretty hard to keep food on the table. Not because we're strapped for cash. But, because my kids have been eating such enormous quantities of food! A loaf of bread gets us through one meal these days. And, while I love to stockpile, I just haven't been able to keep up with their appetites. My husband keeps saying, "What will we do when they're teenagers?"
Well, I guess my short-term solution to the bread shortage actually provides me with a long-term solution as well. I'm having them bake with me!
Last week we spent an entire afternoon baking up a storm. Each FishBoy chose a recipe and while the girls napped, we measured, mixed and baked up all this: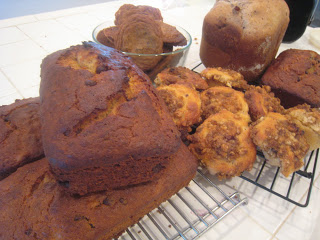 Our mega-cooking day resulted in four loaves of banana bread, a dozen raspberry muffins, three dozen chocolate chip cookies and a large, two-pound loaf of cinnamon-raisin bread.
I think it lasted us into the weekend.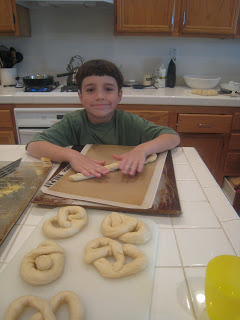 Then, one morning for breakfast we made pretzels. (Did you know they are a traditional Lenten food?) Each child got to shape two pretzels. We salted half of them and left the other half plain so that we could butter them hot from the oven and sprinkle them with cinnamon sugar.
Not only have we had a chance to eaten yummy, healthier, and cheaper snacks, but my kids are being better equipped to do this for themselves, by themselves. I was so pleased to see that my oldest, age 11, was able to prepare his recipe without any assistance from me!
Related:
Visit Crystal's blog for more frugal ideas at Frugal Friday.
Be inspired to cook with your own kids by purchasing my ebook, FishMama's Guide to Cooking with Children.