Budget Living: It's Not a Race
We are a participant in the Amazon Services LLC Associates Program, an affiliate advertising program designed to provide a means for us to earn fees by linking to Amazon.com and affiliated sites. We participate in other affiliate programs as well. For more details, please see our disclosure policy.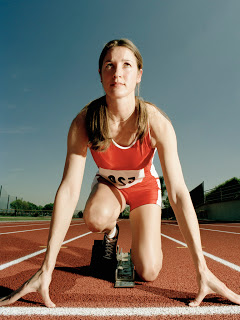 Children, at least mine, are competitive by nature. Often, someone will say, "Let's see who can ———- first." It doesn't matter what it is; it could be who makes his bed the fastest or who gets his seat belt on first. Everything is a potential competition. If the "opponent" is not prepared, he will object, "I'm not racing!" Usually a squabble ensues, only to be smacked down by my saying, "It's not a race."
I have found myself feeling like I am racing when it comes to "getting the deals." It's as if my reputation is on the line if I spend more than the rock bottom price on something. Who cares?
I guess I do.
Do you ever feel like this?
Over the last month or two, I've had to check myself, "It's not a race!" I have had to remind myself of some simple truths. The whole point of getting a good deal is to help my family practice good stewardship. It's not a competition. I'm not a better wife, mother, or blogger if I can score the screaming deal. Instead, it's a means to an end – getting and staying "in the black."
For one family, good stewardship might involve heavy coupon use and shopping at lots of different stores. For another family, it's planting a garden. For a third, it may be cooking all meals from scratch. For you, it may be all of those, none of those, or a combination. The point is that each of us needs to figure out how to live in a way that best serves her family.
What about you? Where are you on the frugal living continuum? Do you pinch every penny? Do you have certain areas where you "splurge?"
Share it in the comments!