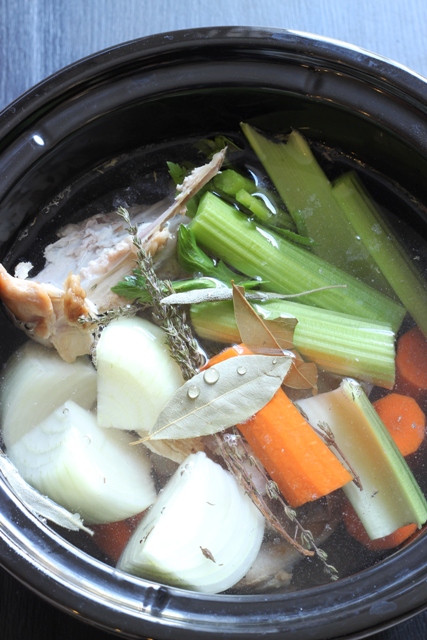 You've probably heard it said again and again how you can save money by making your own ______________ (fill in the blank). From baked goods to birthday cakes, cooking from scratch generally is the less expensive road to travel.
One of the easiest things to make yourself (and it tastes better, too) is chicken stock. Last night we enjoyed a roast chicken and home fries for dinner. Afterward, I made a pot of stock — and a video to show you how you can do it, too.
(I'm still getting the hang of vlogging, so bear with my shaky camera techniques. Hope you don't get seasick.) If you'd rather forego the video, here's what to do:
Place all the chicken bones, drippings and skin into a large pot. I use a crockpot, but you could just use a "stockpot" on the stovetop. Add to the pot the following: any drippings left in the roasting pan, half an onion, a handful of chopped carrots, a bay leaf, 5-6 peppercorns, 1 teaspoon kosher salt, and enough water to cover, about half a gallon. Allow this to simmer for several hours on the cooktop or up to 8 hours in your crockpot. Then, remove the large solids and discard. Strain the broth. Taste it to check how strong it is. If it has a weak flavor, allow it to simmer until some water has evaporated, leaving a thicker flavor behind. Use as you would regular chicken bouillon or canned broth. Cool completely if storing in the frig or freezer.
Hint: If you store it overnight in the refrigerator, the fat will solidify and be easier to remove for a lower fat content broth.
Related: For more money saving ideas, visit Frugal Friday.