Budget Living: Online Checking Account
We are a participant in the Amazon Services LLC Associates Program, an affiliate advertising program designed to provide a means for us to earn fees by linking to Amazon.com and affiliated sites. We participate in other affiliate programs as well. For more details, please see our disclosure policy.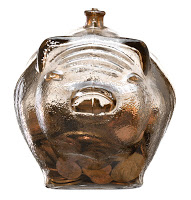 Recently, we established a new checking account. With banking turmoil the way it is these days, it's not as simple as it used to be. I never used to think about which bank I chose, except for which was closest to home, or on the way home from work. However, after consulting with a friend in the banking industry, we decided to go with Bank of America. I procrastinated for a few weeks because it seemed like such a hassle to coordinate a time for both FishPapa and I to enter a branch office together without six screaming monkeys hanging on to us.
I finally checked to see if I could start the account online. Not only could I open the account from the privacy of my own home, but there were several advantages to doing so, one being that BofA would waive the monthly fee. Well, that $7 a month adds up, doesn't it? By, initiating our account online we saved ourselves $84 for the year.
Plus, I didn't have to take six screaming monkeys to the bank. That's worth something right there.
For more ideas about budget living, visit Crystal's blog every Friday.