Budget Living: There IS Such a Thing as a Free Lunch (or Dinner)
We are a participant in the Amazon Services LLC Associates Program, an affiliate advertising program designed to provide a means for us to earn fees by linking to Amazon.com and affiliated sites. We participate in other affiliate programs as well. For more details, please see our disclosure policy.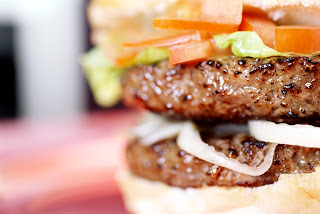 Last night FishPapa and I went on a long-anticipated date. We'd been waiting until we could swing a free sitter. Thankfully, one of my kid brothers was available. It was nice to get out of the house and spend some time together. Dinner at Red Robin was fantastic! My favorite is their Bleu Ribbon Burger. It's a wild combination of onion straws, steak sauce, chipotle mayo, and bleu cheese — all on a hamburger. It's a veritable party in your mouth.
One thing that made the evening extra fun was that FishPapa's meal was free! If you sign up with Red Robin's emailing list, they will send you a coupon for a free burger on you birthday. Our check after tipping on the entire amount was $13, a great price for a full-service dinner out in great company. Can't wait until my birthday!
What kind of birthday freebies have you enjoyed?
Related:
Reclaim the Romance! The At-Home Date Night
Freebies4Mom has the scoop on birthday freebies here.
For more frugal tips, visit Frugal Friday each week.