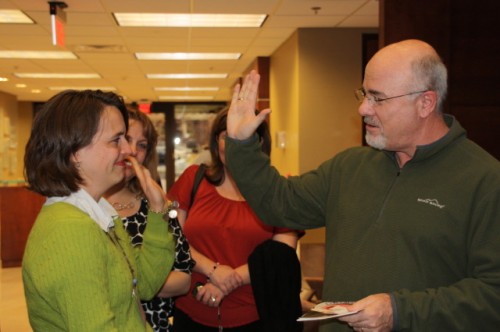 Long time readers will know how much respect FishPapa and I have for Dave Ramsey. Following the methods that he lays out in his book, The Total Money Makeover, we paid off $18,000 in consumer debt over the course of 18 months. Reading Dave's book and listening to the free podcast of The Dave Ramsey Show gave us the tools as well as the hope to fight back debt.
I know, I sound like an info-mercial, but it's true.
We're Debt-Free!
Today, thanks to God, Dave, and a lot of hard work, we are debt-free! Except for a rental property in Kansas City which I would be happy to sell to you. In February I had the opportunity to meet Dave in person and to tell him our story. I bawled. He gave me a high five.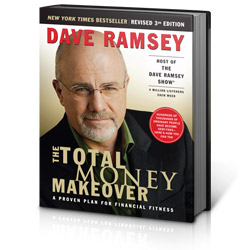 Dave Ramsey has put together a number of resources to help people get wise with their money.
The book, The Total Money Makeover, is exceptional. I've reviewed it several times already. And last Christmas I gave a copy to everyone in the family who didn't already own one.
When we were heavily into debt, I read the whole book, but focused on Baby Steps 1 and 2: Set up an emergency fund and pay off all debts. It took us about 18 months to do both those things.
In the early part of this year, I reread the book to get a perspective on what to do now that we've climbed out of the hole and took some time to catch our breath. It's been an ongoing discussion over the last few months as we devise a plan to invest and be more fiscally fit.
Envelope Budgeting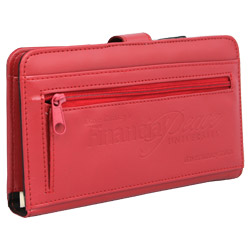 Another great tool that we used to get out of debt was the envelope system. While we were learning to budget, we got into the habit of pulling cash from the bank each month to pay for groceries, incidentals, and mad money. The idea is that you can't bust your budget if the cash is all gone. You just stop spending. At the time I just used regular envelopes and those worked fine.
Last Christmas I bought a few wallet systems, one to keep and two to give away to family members who already had the book. This was my little treat to myself and an encouragement to keep with the envelope budgeting that has served us so well in the past.
Obviously, these are tools that have served our family extremely well. So, it comes as no surprise that I am so excited to share today's giveaways from Dave Ramsey.
Five winners will each receive a copy of The Total Money Makeover and another five will receive a Designer Envelope System.
What great resources to help you get ready for Christmas!

How to Enter:
There are three ways that you can enter this giveaway. Pick one, pick 'em all.
1. Leave a comment, telling us how you plan to save for Christmas.
2. Follow @RamseyShow and @FishMama on twitter and tweet about this giveaway. Then come back here and leave a separate comment with your twitter handle, telling me you did so.
3. Subscribe to LifeasMOM in a reader or via email and leave a separate comment, telling me you subscribe.
This giveaway will be open until Sunday night, August 1st at 8 pm, PST. Winners will be chosen at random and notified via email. You have 48 hours from the time I send the email to respond, otherwise I reserve the right to choose another winner.
THIS GIVEAWAY IS NOW CLOSED. WINNERS HAVE BEEN ANNOUNCED.
– Disclosure: Dave Ramsey has provided these resources for giveaway. I was not compensated to post positive comments. I have been personally helped by his instruction. Please see my disclosure policy for more information.