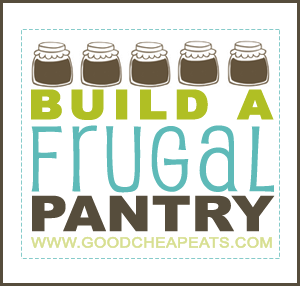 In case you didn't know, I've also got a recipe site. Last year I realized that if I wrote about all the things that I wanted to write about, a large majority of it would be about food. And that's not what this blog is about. So, Good — and Cheap — Eats was born. It's become a little place on the web for me to catalog my recipes and let the foodie in me have free reign.
True confession: I love food.
The Eat from the Pantry Challenge was a great success for me personally as it showed me how much good stuff I had in my cupboards. And I thought, How can I be more purposeful in building a delicious — and frugal — pantry?
Some brain storming, some emails, and a cute button later, the Build a Frugal Pantry series is ready to go! Over the next few weeks some fantastic bloggers and I will be bringing you ideas, recipes, and ingredients for you to add to your shopping cart. Each week we'll feature a different ingredient. And to coordinate the two blogs and my brain cells, Ultimate Recipe Swaps will be synced with that Ingredient of the Week.
Here's March's schedule for URS:
3/4 – Flour
3/11 – Whole Grains
3/18 – Eggs
3/25 – Baked Goods that feature  leavenings (yeast, baking soda, baking powder, salt)
To kick off the Build a Frugal Pantry series, I've got a plateful of giveaways lined up. Pop on over and get a taste of some
Good — and Cheap — Eats
.