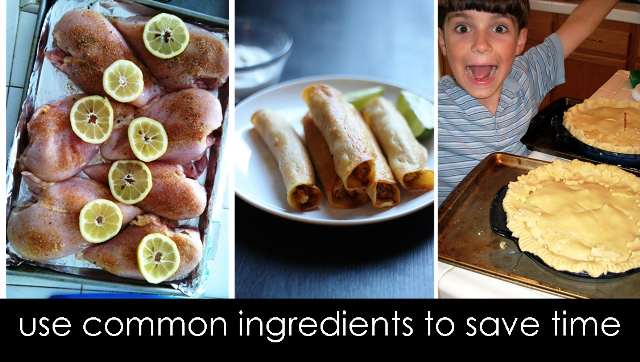 One of the easiest ways to make good use of your time in the kitchen — and maybe reduce it — is to build your meals from like ingredients. That means you might cook a huge batch of chicken one night and serve it as a main dish. You might make Flautas with some of the chicken the next night. And then use up the rest of the chicken in a Chicken Pot Pie on the third night.
By doing so, you've saved yourself a ton of time and effort.
Use common ingredients in your meals to save time.
Many, if not most, of the FREE printable meal plans here on Life as MOM are designed this way. Why spend more time in the kitchen when you could be spending that time with your family or reading a book or building a new project?
For instance, this week's meal plan offers the following tips:
Although you can use whatever spices you like for Stone Soup, try Jamie's Spice Mix. It's also used in the recipe for Hot Italian Beef Sandwiches. Make a batch early in the week. You'll find all kinds of great uses for it.
If your family can't eat a whole chicken in one sitting, plan ahead so that you prepare the whole chicken BEFORE the Stone Soup. That way you can use the leftover chicken in your soup. Better yet, make homemade chicken stock so that you've got that ingredient for free. It will taste much better than the canned or boxed varieties.
You'll need some orange zest for the Spiced Pear Cake. Be sure to save some from the oranges you buy for the salad. You can zest the orange and store in a bag in the freezer until you need it.
By using common ingredients in your week's meals — all the while combining them in different and exciting ways — you make better use of your resources. You waste less. You still eat well.
And you save time in the kitchen.
This post is part of the Kitchen Time Savers series. You can follow along this month as we explore lots of ways to make more efficient use of our time in the kitchen.

Don't want to miss a post in this series? Subscribe to 31 Days of Kitchen Time Savers here. Get updates via email here