THIS GIVEAWAY IS NOW CLOSED. CONGRATS TO THE WINNERS: davidpruitt@, mmhaville@, trish_white@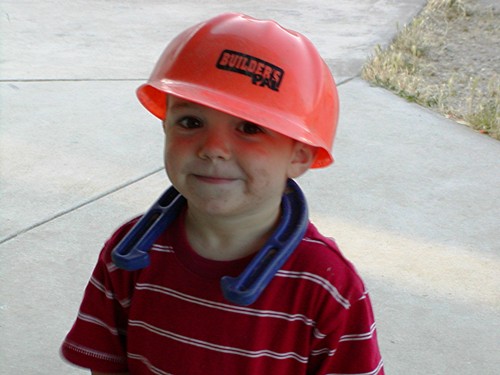 My kids have always been builders. Since FishPapa is a carpenter by trade, tools have always been a part of our lives. The kids have watched him build walls, tear down walls, and otherwise remodel two homes thus far.
And our kids learned to swing a hammer at an early age, much to the shock and dismay of my mother.
Wondering why that cute kid is wearing a plastic horseshoe around his neck? This is why.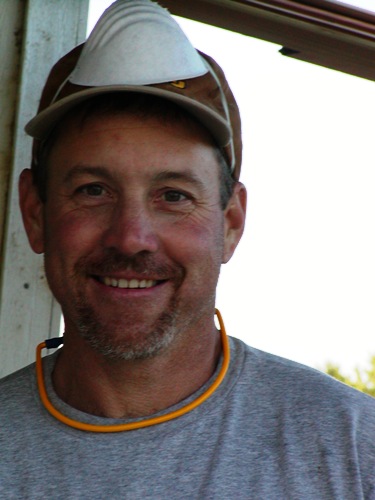 That was the closest he could mimic FishPapa's ear plugs. We wear ear protection when we use heavy machinery around here. 😉
Obviously, kids love to do what Dad does. But it's better — and safer — if they have their own tools.
That's why today's giveaway is so cool!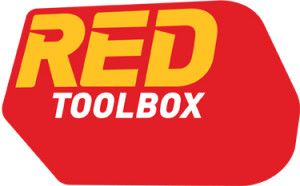 Get Building
Red Toolbox products, available at Lowe's, include a range of real tools and building kits for kids. So fun! I showed hubs the set that we received to review and his comment was, "I was looking at getting those at Lowe's."
There you have it: FishPapa approved.
I know my younger set are going to love this activity with Papa.
From the company,
The Red Toolbox line includes a variety of tools made especially for kids – including a 10 piece tool set, work bench and cordless drill as well as unique kits such as a picture pack, newspaper stand and interactive mini-golf accessories that children can continue to use after they have been built. These one-of-a-kind kits feature a level system – with Beginner, Intermediate and Advanced projects. Each level increases in complexity – allowing kids to develop carpentry skills and enhance their creativity as they advance forward.
There is a huge range of Red Toolbox kits. I particularly like the condiment carrier for picnics and parties and the GoCart. (How cool is that?)
Win a kit!
This week three LifeasMOM readers will each win 8-piece Tool Set (includes: Goggles, Tape Measure, Philips Screwdriver, Flat Screwdriver, Hammer, Saw, File, 2″ Clamp) and a sample kit as well as a cordless drill (if required for the specific kit).
To Enter:

Share your experience with building, hammers, nails, etc. (Feel free to make us laugh.)
This giveaway will be open until Sunday, 7/3, at 8pm PST. The winners will be selected randomly and notified by email, and this post will be updated with their name as well. Please respond within 48 hours to claim your prize.
THIS GIVEAWAY IS NOW CLOSED. CONGRATS TO THE WINNERS: davidpruitt@, mmhaville@, trish_white@
Disclosure: I received sample product to review. All opinions are my own.