Busy Holiday Cooking Plan – FREE Download for Freezer Cooking
As an Amazon Associate I earn from qualifying purchases. For more details, please see our disclosure policy.
Looking for freezer cooking plans? After you download this plan, check out these other free printable plans.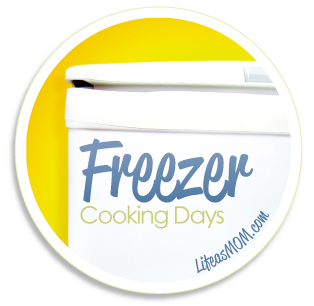 It has been a freezer cooking MONTH, I tell ya! First there was the wild hair I got to post 31 Days of Freezer Cooking over on Good Cheap Eats. Then there was the release of my book. And this week? I cooked enough to feed us until Christmas.
Almost.
I have meals and meal components to feed us for more than 30 meals. When combined with leftovers, dinners out, and pizza night, these take us into December's meal plan.
Busy Holiday Nights Cooking Plan
One day last week, I sat down with The Cookbook, as it's called around here, and culled one-dish dinners and casseroles into a cooking plan to get us through the busy holiday nights. I've found that on the nights when I'm writing or when we have hockey practice and games, dinner is a little haphazard. I wanted to provide my husband and kids with a way to take care of dinner simply and easily.
Throwing a casserole in the oven is just the ticket. While there aren't that many casseroles in my book, there was enough of a selection to make it really work.
The cooking plan I developed is massive. And it's not for the faint of heart. I definitely got a workout this week. I know it will be worth it, though.
My sister jumped at the chance to test the plan along with me, even in the midst of her hurricane preparations and recovery. (Thankfully, the storm kinda skimmed over Williamsburg, so they are fine.) The thing Janel neglected to mention to me was that she'd never done a full day of cooking.
Oh dear.
She's fine now. Aren't you, Janel?
This is a full-day cooking plan. In fact, I recommend shopping and doing the prep work on one day and assembling the meals on the next day. In this way you won't be wore out when you're done.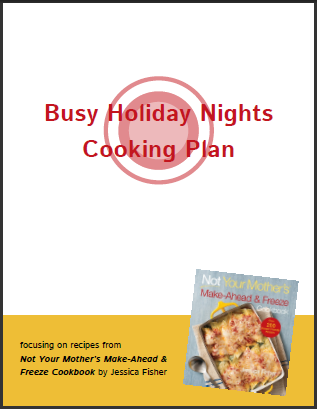 Between the two of us, Janel and I have put together a FREE download that includes everything you need to pull off a Busy Holiday Nights cooking session of your own. Not only is there a grocery list, prep list, and cooking plan, but there are also labels to print off and an inventory checklist to slap on the freezer or fridge to let you know what you have and what you need to do to get it from freezer to table.
The only thing you need is The Cookbook.
The book already contains ten cooking plans, ranging from two-hours to all-day. This is a bonus. I'll be sharing more cooking plans throughout the next few months because I really like having a full freezer. And I like you, too.
On Sunday over on Good Cheap Eats, I'll be sharing a monthly meal plan that shows how these meals can fit into your meals without seeming monotonous or repetitive. You can easily mix and match some of these dishes to make a variety of interesting meals to take you through November and into December.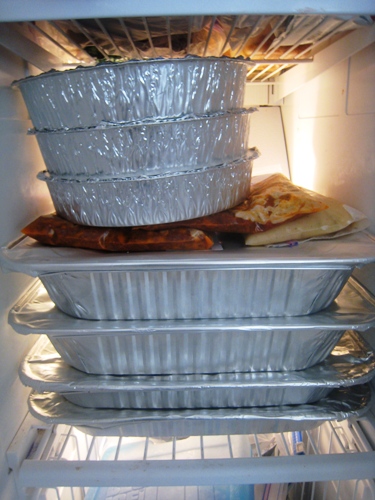 The Contents of My Freezer
Currently, my freezer holds the following:
Beefy Mushroom Gravy x2
Cream Cheese Mashed Potatoes x2
Shepherd's Pie with Green Chile Mashed Potatoes x2
Taco Kits x2
Jamie's Spice Mix
Sweet and Spicy Joes x2
Swedish Meatballs with Dill (with Meatloaf variation) x4
Cooked Chicken x2
Chicken Enchilada Bake with Green Chiles and Jalapenos x2
Creamy Chicken Enchiladas x2
Bean and Cheese Nacho Bake x2
Cozy Cheese and Potato Casserole x2
Six-Layer Nachos x2
Potatoes Stuffed with Caramelized Onions and Dubliner Cheese x2
Split Pea Soup with Bacon and Thyme x2
Buttered French Toast Casserole with Almonds and Ginger x2
Cinnamon Bread, BONUS recipe in the cooking plan only x2
Before I got all fancy with those things, I made a mega batch of Pesto and a mega batch of Marinara. Afterward, I had extra pork and extra beef since I bought bulk packages at Costco. I made the filling for Ginger Pork Lettuce Wraps and some hamburgers. So, I think we're set. Don't you?
(Don't forget to check Good Cheap Eats this weekend for the lowdown on the shopping trip as well as a meal plan to show you how to put it all together.)
Have YOU done any freezer cooking lately?
We'd love to hear what you've been cooking. Don't worry if it wasn't a beast of a cooking session. I certainly don't do this every month. Share how you're filling your freezer. Inquiring minds wanna know.