Making something yourself can be a great way to save money. But there are always costs to the Do-It-Yourself method. Should you buy or DIY?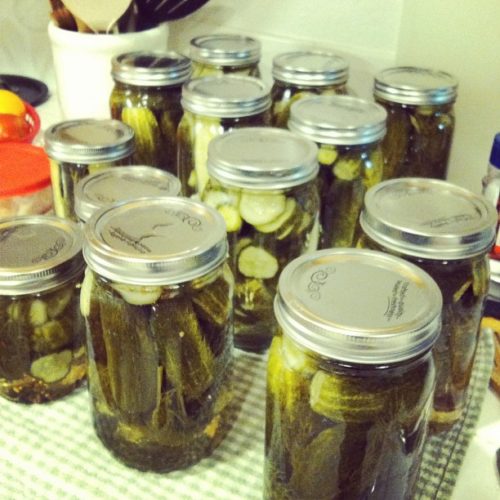 This week I made pickles. Ten pounds of cukes became 11+ quarts of homemade kosher dill pickles right before my very eyes.
There were a number of snafus in procuring the pickling cucumbers, too numerous and boring to tell you about. I spent about three to four hours scrubbing cucumbers, filling jars, watching a pot boil. In the end there was a beautiful array of jars of pickles to enjoy in the coming year.
I felt quite proud of myself the next morning to see that collection of jars on the kitchen counter. My heart sang when I tried to pry off the lids with my fingers, but found that all the lids had sealed as they should.
No morning shower of pickle juice is a good thing.
Provided that my family likes this style of pickle — I tried a new recipe — we'll have many months of pickles to enjoy on hamburgers, sandwiches, and pulled pork.
But was it worth it to do it myself?
My friend Anne posted this great flowchart to help her think through the process of Buy or DIY? Read the whole post to check out the beautiful projects she created recently and to see how she assessed the worth of those projects.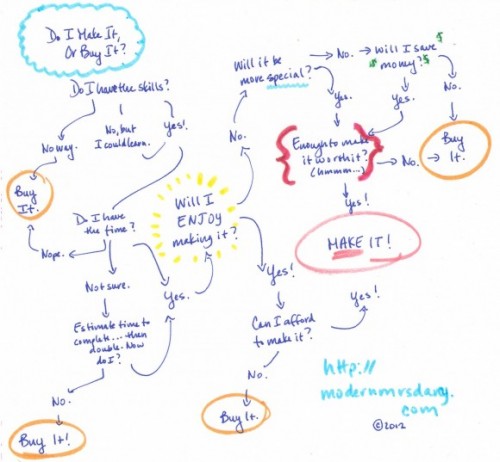 Anne asks some wonderful questions in the flowchart, prompting us to consider:
Can I do it?
Can I afford it?
Will I enjoy doing it?
Does doing it myself make it special enough/worth any extra effort or cost?
I pondered her questions as I waited for my cukes to arrive, having ordered them several weeks in advance and having no way to back out. Still it was a good exercise to walk through.
In the instance of my pickle-making adventure, I walked through the questions. Can I do it? I've made pickles once before. We liked them well enough for me to make them again, but to try a different recipe. I want to get better at canning and preserving, so while I don't have mad skilz, the only way to get better is to keep trying.
Can I afford it? The cucumbers were purchased from a local farmer. Obviously, they would have been cheaper if I had grown them myself. I paid $20 for 10 pounds of beautiful, small pickling cukes. The cost ended up being less than $2 per quart. Since these are mostly organic pickles, that's a pretty good bargain. Tiny jars sell for $3 to $5 in these here parts.
Will I enjoy doing it? I do enjoy the process of canning, barring illness and crabby kids. My grandmother canned all their foods and I feel a certain kinship with her in going back to the old timey methods. Canning skipped a generation in my family so I never learned as a child or saw it first hand, but I'm teaching myself through research and trial and error. I have such a sense of accomplishment when I see those jars lined up in my pantry.
Is it worth it? If we like the pickles — we'll know in about a month — then I'd say it was definitely worth it. If we don't, well, back to the drawing board.
Think it through before you do it yourself.
I love this thought process, though. Anne's questions provide a great starting point to help you figure out if you should tackle a project yourself or find an economical source to buy it from instead.
This is a great way to save money, effort, and time!
Today's Frugal Friday!
Time to swap ideas and inspiration for saving money.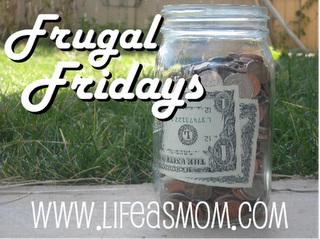 How do YOU save money?
Please remember to follow the Frugal Friday Guidelines or be deleted.
Post a money saving idea and explain how it is helpful in your post.
No giveaways or deals posts.
Recipes are allowed, but you must explain how it saves people money.
Please include a link back to Life as MOM.