THIS EBOOK IS NO LONGER AVAILABLE.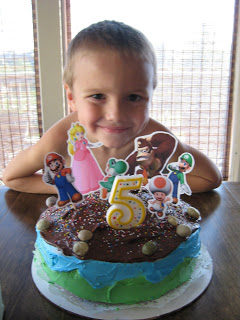 I'm no expert, believe me. I'm just a mom who likes to make cool cakes for her kids. When they told me that I couldn't make them pie for their birthdays, I had to get creative.
My basic formula is to take what interests my kids, find toys and candy to go with the theme and then create a scene on top of a cake. Think third grade diorama and make it edible.
It's pretty much what the bakery does, only
My kids have a lot of creative license in choosing a theme. The sky's the limit in terms of themes.
The birthday child gets to keep an entertaining, fully functioning toy rather than a useless, plastic cake topper.
I don't pay a small fortune to celebrate with a festive cake.
You can totally do this, too!
Pretty. Cool. Cakes: A Baker's Dozen of Creative Birthday Cake Ideas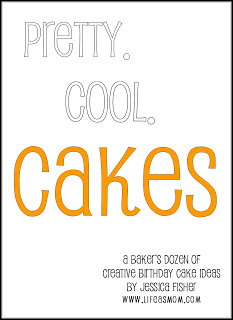 This 34-page book includes photographs step-by-step instructions of thirteen different birthday cakes. Each one is based on a theme chosen by real live kids infatuated with fantasy heroes and storybook characters, just like every other child.
Each cake can easily be adapted to your own child's interests if ours aren't his favorite. The many ideas represented here range from Star Wars to the Rainforest to Fancy Nancy as well as a few that will please older children, college students, and adults.
But the best part of this book is the encouragement and inspiration it imparts. You will see that it really isn't difficult to create a festive, fun, and frugal birthday cake to celebrate the milestones in your family's lives.
[wp_eStore_buy_now:product_id:2:end]
Included in the book:

The Basics to Cake Decorating — for Normal People
Surf's Up
May the Force Be with You
A Day in the Rainforest
YoHoHo and a Bottle of Fun
Fun in the Sun
Can We Build It? Yes, We Can!
Indiana Jones
Super Mario and His Friends
What State Are You In?
A Birth-Day Cake
Friends, Romans, and Countrymen
So Fancy, That Nancy
Breakfast is Served