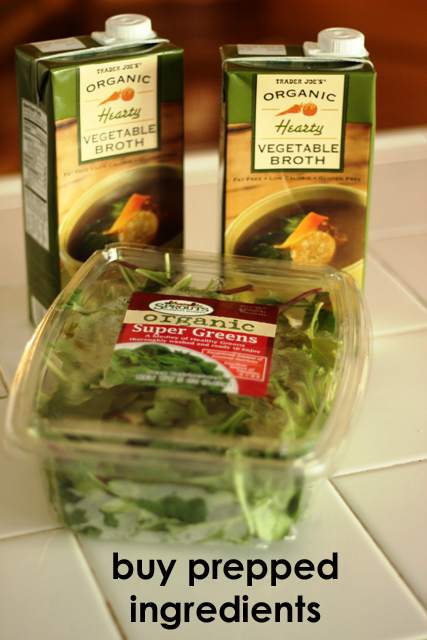 You know that I'm a DIY girl at heart. I know that homemade is better and often cheaper. I also know that buying convenience items can help you out if that's the season you're in.
Let me tell you, with my back in as bad of shape as it's in, filling the freezer with TV dinners doesn't sound like a bad idea!
I also know that there's some middle ground, too. That middle ground would include things like:
baby greens
boxed broth
rotisserie chicken
pre-prepped veggie trays
store-baked bread
pre-shredded cheese
These items are more ingredients than they are meals. And they can help you save time in the kitchen. Can you make your own vegetable broth? Absolutely. Is there a time to buy it already made. Yep, there sure is.
Buying pre-prepped items can make your dinner preparations go by more quickly. If you can make them yourself in advance, that works as well.
This post is part of the Kitchen Time Savers series. You can follow along this month as we explore lots of ways to make more efficient use of our time in the kitchen.

Don't want to miss a post in this series? Subscribe to 31 Days of Kitchen Time Savers here. Get updates via email here