Cake Cheating
As an Amazon Associate I earn from qualifying purchases. For more details, please see our disclosure policy.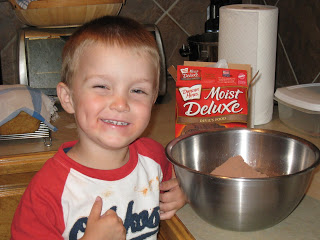 Personally, I like pie. Lemon Meringue Pie. Apple Pie. Berry Pie. Cheesecake. Yeah, that's a pie more than a cake in my book. And since I'm a food snob, I've been making pies from scratch for a long time, since I was 10 and my dad conned me into it.
But, awhile ago I found out that my husband and children prefer cake. Humph! I was a little putoff — for several reasons.
1. I think pie's better. And since I'm a know-it-all, bossy-big-sister, everyone should agree with me.
2. I bake good pies. (I think that goes along with the second half of #1)
3. I'm not that good at cake baking. I almost told them they were never eating cake again when my first attempts at a from-scratch layer cake ended like brick saucers.
Then, I put my food snob tendencies aside and tried a boxed cake mix. And it wasn't bad. Yes, I know, it's not as good for you as baked from scratch, but for birthdays when things are crazy and children are hyper, they are the way to go. Plus, I found this great cookbook called The Cake Mix Doctor. It lists tons of recipes that take a boxed mix and make it more. As if ease and convenience weren't enough, if you combine sales and coupons, you can get a cake mix for a few quarters.
Two thumbs up for the cake fans in my house!