California on a Budget: Find a Family Style Restaurant
As an Amazon Associate I earn from qualifying purchases. For more details, please see our disclosure policy.

We love to eat around here. And we love to eat out. But with six kids and the high cost of living in California, not to mention a middle income, well, ya gotta be creative. As I've mentioned before, we've figured out how to be Dollar Menu-aires and can drive through a fast food joint for our family of 8 for less than $20.
But, we're trying to cut out the fast food. And while I'm fairly adept at cooking from scratch and freezer cooking, some nights I just want to eat someone else's cooking.
So, what's a girl to do?

Find a Family Style Restaurant
Certain types of restaurants lend themselves toward buying several dishes that can be served "family style" at your table. Rather than receive a preportioned serving, when you order family style, the plates come piled high so that each diner can serve himself. There's less waste this way — provided you order the right things — and everyone can enjoy a little of everything.
Take-out Chinese food is one obvious choice, as is pizza. Pizza places abound, but some are certainly better than others. Here in Southern California we've discovered Pat and Oscar's. It was by accident that we ever went there in the first place. But, we're so glad we did. It's not a fancy place by any means. But the food is good, plentiful, and not terribly expensive. We've been twice in the past few months, and the kids have enjoyed it immensely. They stuff themselves, and yet there are always leftovers to take home.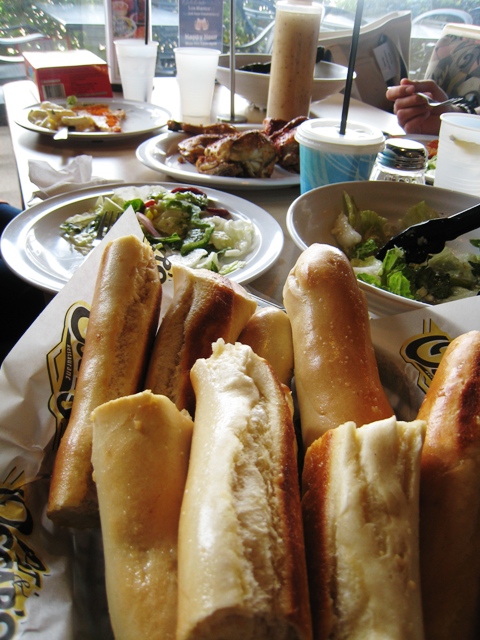 One of the greatest things about Pat and Oscar's menu is the Family Value choices. These are combinations of pizza, breadsticks, salad, ribs and/or chicken. And the portions are very generous. We recently spent $45 (plus a $5 coupon from the Entertainment book) when family was visiting and we fed seven adults and six kids with a few leftovers to take home.
Seriously, this is a great way to eat out on a budget.
Family-style dining is obviously nothing new, nor is it exclusive to Southern California. I bet, no matter your locale, there's a place in your backyard where you can find good cheap eats to feed a crowd.
How do YOU save money eating out? Do you have this kind of restaurant in your city?