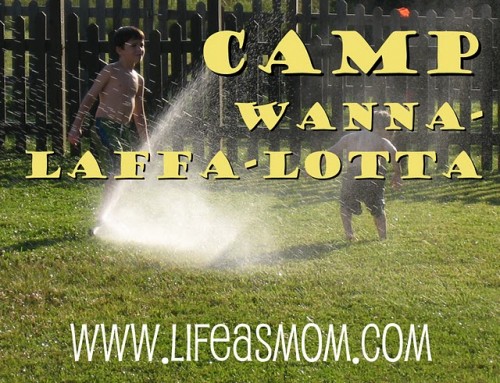 Summer days can slip by before you know it. Make the most of it by planning a few enrichment activities to enjoy with your children through out the next few weeks and months. After all, all of life is learning. And summer learning can be the most enjoyable, especially since the pressure's off.
Camp Wannalaffalotta is a great way to combine summer fun and learning. This week we take you to a Dog's Life. It's amazing how many books, movies, and activities surround Man's Best Friend. Not only can your kids learn about zoology, but there's a wealth of understanding in human relationships to be found in dog stories. Not to mention just plain fun.
Practically Free Fun
You don't have to spend a lot of money to have fun and enjoy learning and playing with your kids. Make the internet and the library serve you well this summer. Enroll your kids in their summer reading program and explore the world of books together.
Many of the following craft suggestions involve regular household items. If something is out of reach, in terms of budget or availability, there is almost always a reasonable substitute, just think outside the box.
Get Reading!
Make library days a regular part of your summer. We usually choose one day of the week to make Library Day. Sometimes I'll pack a sack lunch, then we can take our time, not hear rumbling tummies, and not succomb to fast food on the way home. Ask your children's librarian to point you to the reference books, like A to Zoo. They should have a whole section on books about books. These are directories, organized by age, theme, and author, to help you find books your children might be interested in. Teachers know about these books, but I'm not sure all parents do. This kind of book will help you help your children choose good books.
Picture Books and Easy Readers – we love all these series featuring dogs!
Harry the Dirty Dog by Gene Zion
McDuff Moves in by Rosemary Wells
Mr Putter and Tabby by Cynthia Rylant
Nate the Great by Marjorie Weinman Sharmat
Clifford the Big Red Dog by Norman Bridwell
non-series books:
Go, Dog, Go! by PD Eastman
The Digging-est Dog by Al Perkins
Only One Woof by James Herriot
Nonfiction Books
Dogs by Gail Gibbons
Chapter Books and Read Alouds
Hank the Cowdog by John R Erickson
Henry and Mudge by Cynthia Rylant

Books for Older Kids
(As always, use discernment and perhaps preread books with more mature themes and situations.)
Old Yeller and Savage Sam by Fred Gipson
The Call of the Wild and White Fang by Jack London
Julie of the Wolves by Jean Craighead George
Where the Red Fern Grows by Wilson Rawls
Get a Movie On!
Different families have different standards when it comes to movie viewing. If I haven't personally seen a movie listed, I've checked it through the Dove Foundation's Movie Reviews or heard good things about it. But our standards may not be yours. Please use discernment in choosing what your children will watch.
Old Yeller
Doogal
Because of Winn-Dixie
The Shaggy Dog
Air Bud
Bolt
Up
Lassie Come Home
The Adventures of Milo and Otis
Homeward Bound, The Incredible Journey
Where the Red Fern Grows
and for parents, because it might be boring for kids: Marley and Me

Get Crafting!
How to Draw Dogs
Make a Puppy Portrait Frame using Dog Biscuits (via Family Fun)
Craft a Cheese Dog
Get Out and About!
Visit your local animal shelter, dog breeder, or pet store. Ask lots of questions and get hands-on experience with dogs if you don't own one yourself.
Get Cooking!
Bake up some Paw Print Dog Treats (via Martha Stewart Living)
Decorate a Go, Dog, Go Party Cake (via Once a Month Mom)
Make a Pink Poodle Cake
Get Thinking of More Fun!
Honey for a Child's Heart by Gladys Hunt
The Read Aloud Handbook by Jim Trelease
Got a Great Idea for Dig-Sized Fun?
Share it!