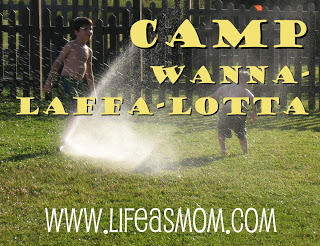 In case you didn't know this coming Saturday is the Great American Backyard Campout. Sponsored by the National Wildlife Federation, it's a community event designed to encourage families to get outside and connect with nature. You don't have to go far — just outside your backdoor. At to help and inspire you, this week's Camp Wannalaffalotta activities revolve around the idea of camping and heading to the great outdoors.
Even if the idea of sleeping under the stars or in a tent gives you the heebie-jeebies, you can still do some of these activities with your children. Do your "camping out" in the living room, and your kids will still love it!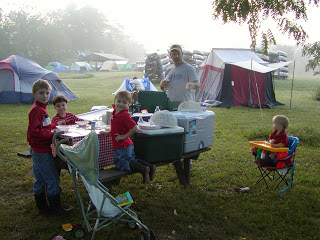 Here are some resources to
Get Reading!
Make library days a regular part of your summer. We usually choose one day of the week to make Library Day. Sometimes I'll pack a sack lunch, then we can take our time, not hear rumbling tummies, and not succomb to fast food on the way home. Ask your children's librarian to point you to the reference books, like A to Zoo. Your library should have a whole section on books about books. These are directories, organized by age, theme, and author, to help you find books your children might be interested in. Teachers know about these books, but I'm not sure all parents do. This kind of resource will help you help your children choose good books.
Picture Books and Easy Readers
Curious George Goes Camping by Margaret Rey
Just Me and My Dad by Mercer Mayer
Amelia Bedelia Goes Camping by Peggy Parish
Henry and Mudge and the Starry Night by Cynthia Rylant
Stella and Roy Go Camping by Ashley Wolff
Nonfiction Books
Stargazers by Gail Gibbons
Camp Out! The Ultimate Kids' Guide by Lynn Brunelle
The Kids' Book of the Night Sky by Ann Love
The Kids' Campfire Book by Jane Drake
Kids Camp: Activities for the Backyard or Wilderness by Laurie Carlson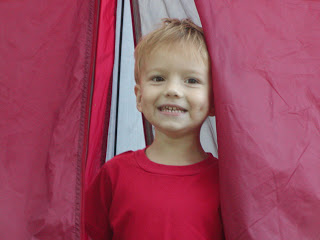 Get a Movie On!
Different families have different standards when it comes to movie viewing. If I haven't personally seen a movie listed, I've checked it through the Dove Foundation's Movie Reviews. But our standards may not be yours. Please use discernment in choosing what your children will watch.
The Parent Trap
Follow Me, Boys
Race For Your Life, Charlie Brown
Get Crafting!
Get Out and About!
go camping
have a "campout" in your living room
visit an wilderness outfitting store like Cabelas, REI, or Bass Pro Shop
create a nature journal and explore with your kids – from Kids Planet
play flashlight tag
go stargazing
Learn to tie knots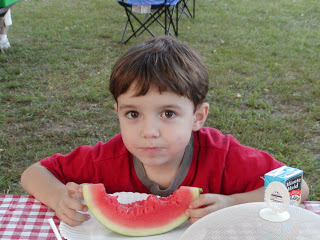 Get Cooking!
Camp Wannalaffalotta is featured every Monday through Labor Day. In order not to miss out on post, you might want to subscribe to LifeasMOM by email or subscribe in a reader. Help spread the word so that other families can benefit from this series as well!If you'd be interested in guest posting or contributing links on family fun activities or kid-friendly recipes that fit these themes, please email me.
It's my hope that we will be on the road to joyful motherhood and that we'll "laffalotta" this summer with our peeps.