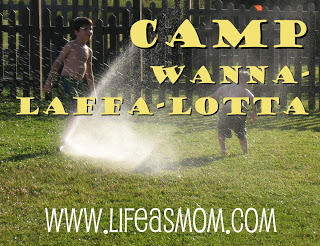 Welcome, Campers! Ready to make some waves? This week's Camp Wannalaffalotta is focused on the Ocean and everything that swims, floats, or lives nearby.
There is a wealth of enrichment activities out there that focus on the ocean and sea creatures. Just do an internet search and you'll see what I mean. I've selected different resources for you to choose from, covering reading resources, crafts, field trips, movies, snacks, and other miscellaneous ideas. You couldn't possibly do them all in one day. But they give you options, and hopefully, inspiration to make up your own family fun.
I believe that all of life is learning. And summertime is a great time to help your children, big or small, see that learning can be really fun. These activities are selected to inspire excitement about the world around us. If you live near the seashore, then you have lots of opportunity to really engage with the ocean. But, even if you're landlocked, you don't have to be limited. We lived in Kansas City for five years and we still enjoyed fun in the water and learned about sea creatures and the ocean from afar.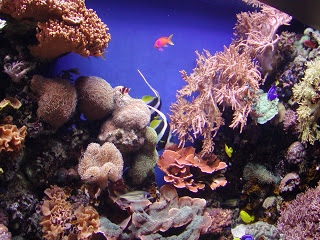 If you want to talk and learn about the ocean all summer, you could. Or you might just spend a day reading a book, doing a craft, making a fun snack, and watching a movie together. Or you could spend the whole week at the seaside – virtually. Books, videos, and websites are a boon to exploring something without actually being there.
You shouldn't have to spend much money to "do camp" at home. Remember that the library is your best friend this summer. Enroll your kids in their summer reading program and explore the world of books together. Many of the craft suggestions involve regular household items. If something is out of reach, in terms of budget or availability, there is almost always a reasonable substitute, just think outside the box.
Maybe you won't do any of these activities, but perhaps they'll get you thinking about what you would like to do with your children. Either way, I hope you'll laffa-lotta with your children this summer.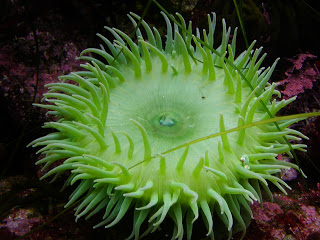 Get Reading!
Make library days a regular part of your summer. We usually choose one day of the week to make Library Day. Sometimes I'll pack a sack lunch, then we can take our time, not hear rumbling tummies, and not succomb to fast food on the way home. Ask your children's librarian to point you to the reference books, like A to Zoo. They should have a whole section on books about books. These are directories, organized by age, theme, and author, to help you find books your children might be interested in. Teachers know about these books, but I'm not sure all parents do. This kind of book will help you help your children choose good books.
Picture Books
The Rainbow Fish by Marcus Pfister
Sailor Moo by Lisa Wheeler
A House for Hermit Crab by Eric Carle
Mr. Seahorse by Eric Carle
Nonfiction Reads
The Magic Schoolbus on the Ocean Floor by Joanna Cole
Otter on His Own: The Story of a Sea Otter by Doe Boyle
Exploring the Deep, Dark Sea by Gail Gibbons
Bill Nye The Science Guy's Big Blue Ocean by Bill Nye
Sea Monsters by Mary Pope Osborne
Chapter Books
Moby Dick (versions are available at all levels) by Herman Melville
Henry and Mudge and the Forever Sea by Cynthia Rylant
Swiss Family Robinson (versions are available at all levels)
Dark Day in the Deep Sea (Magic Treehouse #39)
Eve of the Emperor Penguin (Magic Treehouse #40)
Books for Older Kids
The Old Man and the Sea by Ernest Hemingway
The Black Pearl by Scott O'Dell (a Newberry Honor Book)
The Pearl by John Steinbeck
The Hidden Harbor Mystery (Hardy Boys, #14)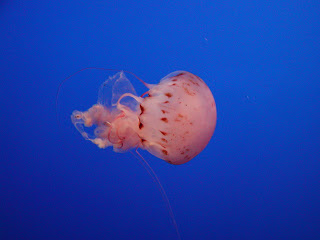 Get Crafting!
Your crafts could be as simple as doing a coloring page together or making fish out of playdough. The beauty of it is sitting at the table with your children and talking, laughing, and creating. But, you could also check out one of these activities:
Cockleshell Critters from Family Fun
Ocean Diorama from MarthaStewart.com
Ocean in a Bottle from Kaboose.com
multiple Ocean crafts from FreeKidCrafts.com
Seashell Chime Bracelets from Family Fun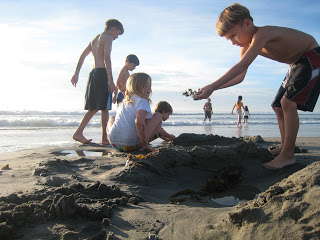 Get Out and About!
set up the sprinklers and kiddie pool and let the kids get wet
go swimming
visit a pet store and learn about tropical fish
go to your local aquarium or zoo
walk along the beach and visit the tidepools
take a boat ride on the ocean or lake
go fishing
Visit the Sydney Aquarium – in Australia! Take a virtual tour.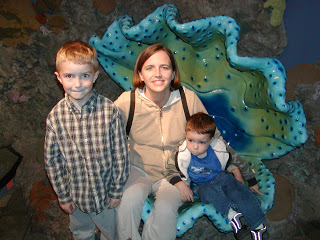 Get a Movie On!
Different families have different standards when it comes to movie viewing. If I haven't personally seen a movie listed, I've checked it through the Dove Foundation's Movie Reviews. But our standards may not be yours. Please use discernment in choosing what your children will watch.
Reading Rainbow: Ocean Life
Finding Nemo
20,000 Leagues Under the Sea
The Little Mermaid
Andre
March of the Penguins
Nim's Island
Happy Feet
The Magic Schoolbus Catches a Wave
Swiss Family Robinson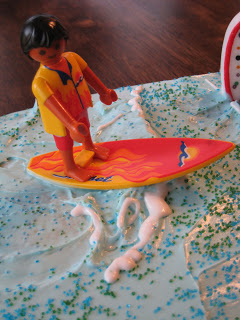 Get Cooking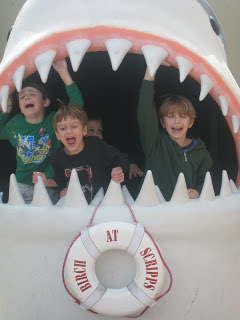 Get Thinking (Other resources to help you)
WeeSing Under the Sea
Little Hands Nature Book by Nancy Castaldo
Little Hands Paper Plate Crafts by Laura Check
Honey for a Child's Heart by Gladys Hunt
Story Stretchers by Shirley Raines and Robert J Canady
Toddle On Over by Robin Works Davis
Family Fun Crafts
Got another idea for ocean-themed fun? Share it with us!