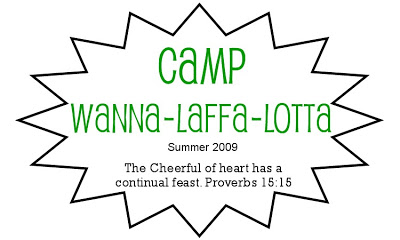 I almost forgot! If you're going to camp, you need a tshirt! One year I printed out a logo like this one onto iron-on tshirt transfer paper and ironed them on everyone's shirt that we'd already tie-dyed as a group activity. Very cool.
So, here's your logo. Use it with my blessings!
You can buy iron-on transfer paper at Stuff Mart or any office supply store. Amazon sells it, too. Print off as many copies as you have campers, and follow the directions on the package. Take note of any curing time.
If you want, you could tie dye them. If you do, don't go out and buy new shirts. Use up the stained white ones you already have.
And in case this logo isn't your style, you could make up your own, maybe with your family name. My boys would probably prefer FBA shirts, themselves.