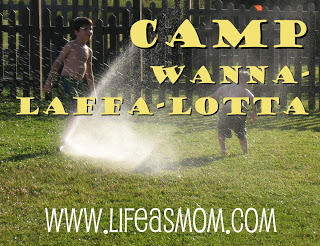 Welcome to this week's Camp Wannalaffalotta! If you're just joining us, you can read more about it here. Basically, since I can't invite you and your children over to my home for a DIY summer camp, I'm presenting resources for you to do with your kids at your house. I've received some fun emails telling me what "camp activities" moms are doing with their children. I'd love to see more. Please email me with your link or story at lifeasmom at sbcglobal dot net. When you do, let me know if I have permission to share.
Over the years when we've taken a true "vacation" from school, I've found that little ones get easily bored and constantly ask, "What's there to do?" I try to make a loose summer schedule that includes library and park days, as well as certain blocks of time during each day for reading, crafts, and videos. My kids could do crafts and stories and movies all day long. I try to mix up planned stuff with plain ol' "go-outside-and-find-something-to-do" stuff. Having a plan is always helpful, even if we decide not to follow it.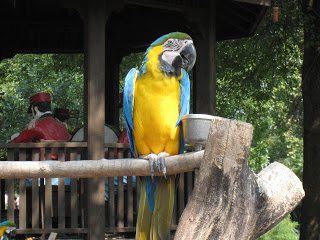 Here are some jungle-themed resources to help you
Get Reading!
Make library days a regular part of your summer. We usually choose one day of the week to make Library Day. Sometimes I'll pack a sack lunch, then we can take our time, not hear rumbling tummies, and not succomb to fast food on the way home. Ask your children's librarian to point you to the reference books, like A to Zoo. Your library should have a whole section on books about books. These are directories, organized by age, theme, and author, to help you find books your children might be interested in. Teachers know about these books, but I'm not sure all parents do. This kind of resource will help you help your children choose good books.
Picture Books and Easy Readers
The Saggy Baggy Elephant by K. Jackson
Rumble in the Jungle by Giles Andreae
Over in the Jungle: A Rainforest Rhyme by Marianne Berkes
A Is for Anaconda: A Rainforest Alphabet by Anthony D. Fredericks
Nonfiction Books
Jungle (Eyewitness Books) by Theresa Greenaway
Rainforests: An Activity Guide for Ages 6-9 by Nancy F. Castaldo
At Home in the Rainforest by Diane Willow
Chapter Books and Read Alouds
Tigers at Twilight by Mary Pope Osborne
In The Rainforest (Magic School Bus) by Eva Moore
Rikki-Tikki-Tavi by Rudyard Kipling (versions are available for all ages)
Get a Movie On!
Different families have different standards when it comes to movie viewing. If I haven't personally seen a movie listed, I've checked it through the Dove Foundation's Movie Reviews. But our standards may not be yours. Please use discernment in choosing what your children will watch.
National Geographic: Really Wild Animals – Totally Tropical Rain Forest
Rikki Tikki Tavi
The Jungle Book
Tarzan
Get Crafting!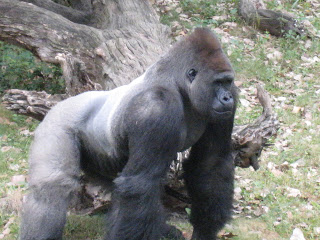 Get Out and About!
Go to the zoo.
Walk through your local botanical gardens
If the budget allows, visit a Rainforest Cafe.
Get Cooking!
Decorate a monkey cake.
Make Jungle Juice.
Stir up a snack mix with goldfishy, animal crackers, and gummy jungle shapes.
Eat bananas and chocolate – two most important products from the Rainforests.
Camp Wannalaffalotta is featured every Monday through Labor Day. In order not to miss out on post, you might want to subscribe to LifeasMOM by email or subscribe in a reader. Help spread the word so that other families can benefit from this series as well!If you'd be interested in guest posting or contributing links on family fun activities or kid-friendly recipes that fit these themes, please email me.
It's my hope that we will be on the road to joyful motherhood and that we'll "laffalotta" this summer with our peeps.