Congrats to casil3229 who is the winner of this giveaway!
I grew up on Campbell's Chicken Noodle Soup. My dad would stock up major bigtime every time there was a sale. Back then, a sale was fifteen or twenty cents per can — without a coupon! Oh, am I dating myself?
Campbell's was Dad's cure-all for anything that ailed us. If we were home sick from school, we were always served a tall glass of orange juice and a bowl of chicken noodle soup with lots of pepper on top. Buttered saltines didn't hurt, either.
And just so you know, we made the soup with only 1/2 a can of water instead of the full can as the directions imply. It was too watery, otherwise. I knew it was a match made in Heaven when FishPapa said that was how the Fishers mixed up their chicken noodle soup, too.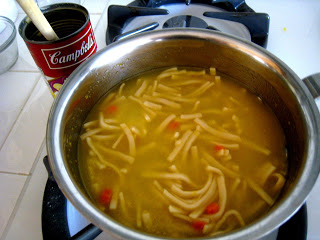 Recently, I was sent several cans of Campbell's Kid's Soup to try. The kid's line has reduced sodium and no added msg which I consider to be a good thing. Chicken and Stars and Spongebob soups were definitely well-received by the FishFam, even though they don't really know who Spongebob is. But the one that really impressed us was the Double Noodle. The can was packed to. the. brim. with noodles. I was able to mix in the full cup of water! And one can fed the whole crew. (see picture above) If you can find Double Noodle on sale, I'd definitely stock up on that, especially if your crowd is as big as mine.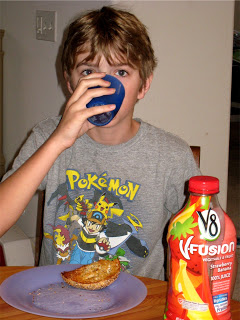 Another product we received to try out was the V-Fusion from V-8. My mom used to buy the classic V-8 to make gazpacho which I honestly never tried. Couldn't get over the vegetable juice factor. And to be honest, I still can't.
V-Fusion is like a stealth bomber with one combined serving of fruits and vegetables. I made the mistake of reading the label before I tasted it. It's all good stuff: sweet potatoes, carrots, apples, tomatoes, grapes, etc. But, then I tasted it and I didn't love it because of the aforementioned vegetable juice factor.
However, my kids loved it! The taste as well as the ingredients list. I guess I've done a good job in their health education classes because they were ecstatic when they read the label. They were so happy to know that they were getting a full serving of fruits and vegetables and several children made a point of sharing that information with whoever would listen.
And, quite honestly, as long as there is "juice" in the name, FishKids are in the game.
This week I have a fun giveaway from Campbells and V-8. One winner will receive this: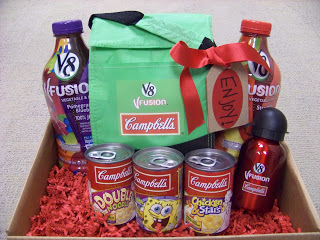 The prize package includes:
•A lunch tote
•A kid-friendly juice bottle
•Samples of Campbell's Kids soup
•V8 V-Fusion (Strawberry Banana and Pomegranate Blueberry)
Giveaway will be open until Sunday, December 13, 8 pm PST. Winner will be chosen at random. Please make sure that you leave an email contact and are prepared to respond with your mailing address within 24 hours of receiving an email from me.
There are three ways to enter:
1. Leave a comment on this post, telling us your favorite Campbells/V-8 story.
2. Participate in Ultimate Recipe Swap this week, by linking a Quick Winter Dinner or leaving a comment.
3. Subscribe to LifeasMOM in a reader or via email or follow me on twitter and leave another comment telling me you did so. This giveaway is now closed. Thanks for playing!