Looking for ways to save money on food costs? The answer may be closer than you think. The solution is only as far away as your kitchen cupboards.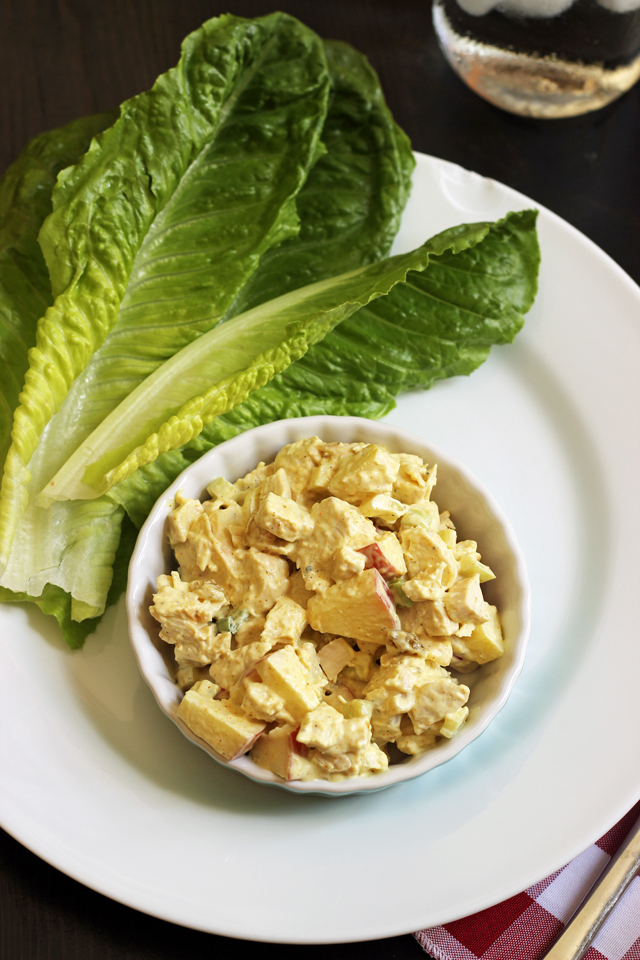 I'm often asked what is the best trick for folks who want to save money on food costs. There are so many clever ideas floating on the internets that it can be hard to narrow it down to one answer, but I have:
Avoid waste.
Statistics are showing that we Americans are pretty wasteful when it comes to food, chucking up to 25% of food because we let it go bad. This can be as simple as making too much of a meal, forgetting to use up the leftovers, or over shopping at the store.
You know that time when you had all those good intentions of eating healthy and stocked the vegetable drawer? And then forgot about all those veggies for a few weeks until they were a dripping pile of goo? Yeah, that. Money straight into the trash.
So, how do you stop that runaway train?
Save Money on Food Costs with a Meal Plan
Having a meal plan with meals that share common ingredients and a solid grocery list of economical and seasonal ingredients to follow can stop that food-to-the-waste-basket train in its tracks!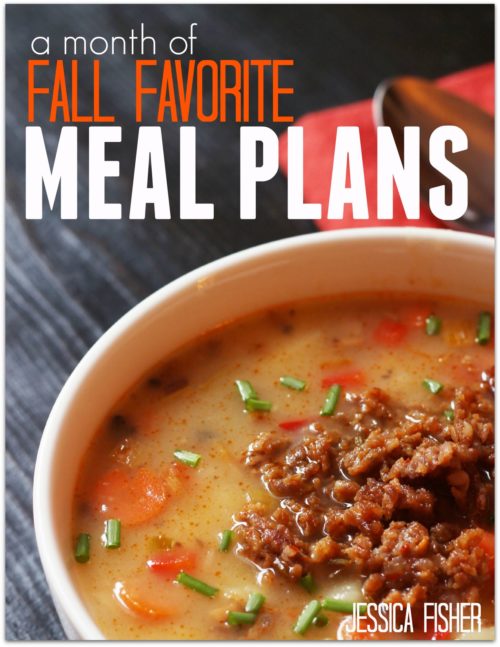 AND IT WILL SAVE YOU MONEY.
Don't have it in you to meal plan? No problem. The work is already done for you in September's featured meal plan.
A Month of Fall Favorite Meal Plans is just the ticket to help you get the right groceries in the kitchen and dinner on the table — without spending a ton of money.
Here's what you'll get in this month's meal plan:
30 menu plans that are perfect for fall
Four weeks of grocery lists
A month-long grocery list to help you take advantage of grocery sales so you can buy in advance and know that you'll use those ingredients in a timely manner
Make-ahead tips and a prep list to make dinnertime easy-peasy
30 main dish recipes included to give you easy access (view the complete table of contents here)
Homemade alternative ideas so that you can save more money and avoid processed foods
Easy fall dessert ideas that maximize seasonal freshness, accessibility, and sale pricing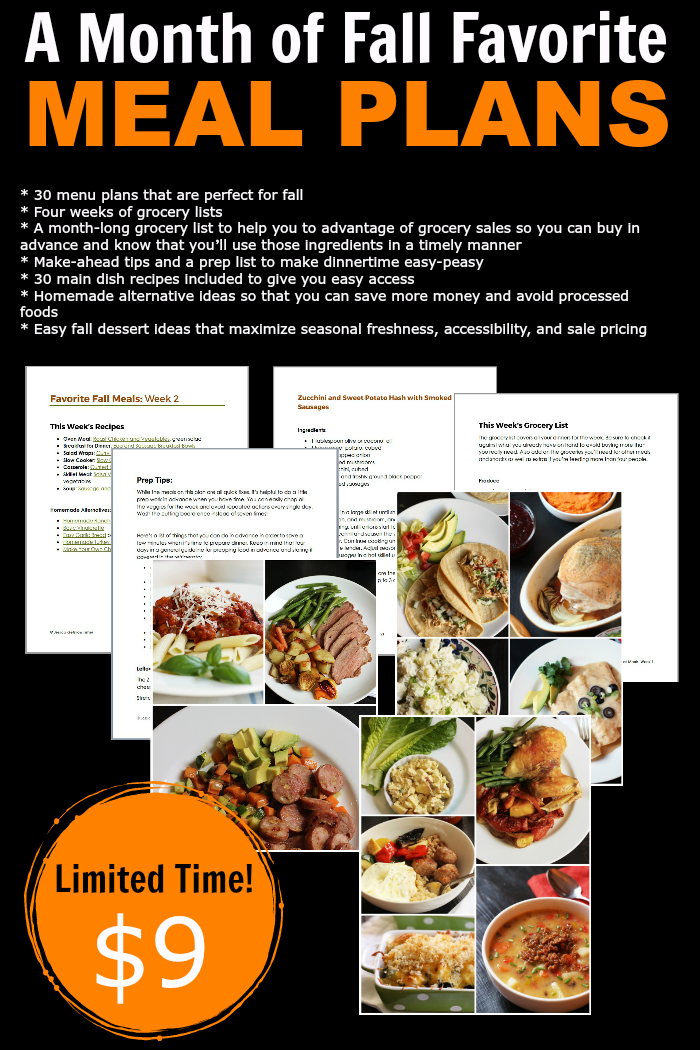 The meal plan is available for $9 for the month of September.
Let's do some math:
That's $2.25/week to have all the planning DONE FOR YOU. You might spend an hour a week trying to swing it yourself. You're worth more than $2.25/hour. I'm sure of it!
Get the meal plan at this great pricing while you can. This special promotion ends September 30, 2017.