Candy Cane Brownie Cupcakes – A Guest Post
We are a participant in the Amazon Services LLC Associates Program, an affiliate advertising program designed to provide a means for us to earn fees by linking to Amazon.com and affiliated sites. We participate in other affiliate programs as well. For more details, please see our disclosure policy.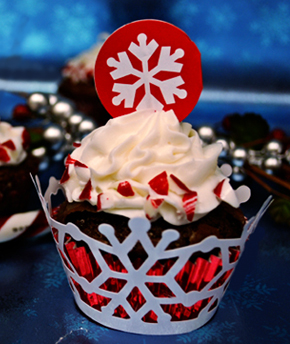 You know how I love cute cakes and cupcakes. As the cupcake craze is taking over my home, I'm realizing how cupcakes can be an especially easy dessert, perfect for the holidays. No need to for utensils, easily portable, Yeah!
Having recently tried my hand at cuter cupcakes, I think it's worth a few trial runs before you take a dreamy batch to a Christmas event. So practice cupcake making between now and December, enjoy the taste-testing, and wow your friends with cute cupcakes come Christmas. Today Rachael from Mommy Topics shows us how it's done.
Life is always busy, but December can get downright CRAZY! With all the typical family chaos, weekly activities, and household chores, plus additional holiday school functions, church celebrations, and family and friend get-togethers, a Mom can nearly lose her mind. That's not how you want to spend "the most wonderful time of the year."
The idea behind Christmas in July is make purchases now at a discount compared to holiday prices and to start storing ideas, both mentally and in your web browser's bookmarks, for holiday crafts, decorations, gifts, and recipes. When the holiday season arrives, you will be prepared to deliver with frugality and beauty, and without a skyrocketing stress level.
Here is a great "Grab and Go" recipe for a holiday cupcake that works for both children and adult centered functions. It tastes great, looks amazing, and is quick, easy, and inexpensive to make and take a moments notice. An added plus is that these cupcakes can be made up to 48 hours in advance.
Candy Cane Cupcakes
Makes 18 Cupcakes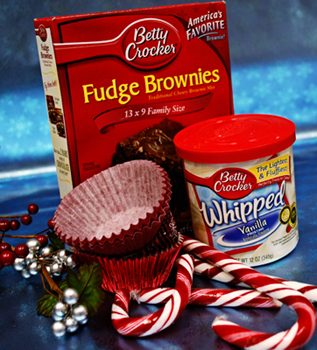 You Will Need:
2 boxes favorite store bought brownie mix, prepared according to package directions or a double batch of Cocoa Brownies
2 tubs classic white or vanilla cake frosting or a double batch of Homemade Buttercream Frosting
10 candy canes – if you're not a big fan of peppermint, beautiful festive red and white candy canes can be found in cherry and cinnamon flavors
2 quart size Ziploc freezer bags or a cupcake decorating kit
18 cupcake papers – red, white, or holiday print
2 cupcake tins that can each hold at least 9 cupcakes each
Step 1. Pre-heat oven according to the directions on the brownie mix box, and prepare both brownie batters together in a large bowl according to box directions, doubling the recipe.
Step 2. Fill the cupcake tins with festive cupcake papers.
Step 3. Fill each cupcake paper nearly to the top with brownie batter.
Cupcake Tip: When using standard cake mix, fill cupcake papers 2/3 full. Though brownies do still rise a bit when baked, they don't rise as much as cake mix, so the cupcake papers must be filled more than 2/3 full, about 2 cm from the top. Also, brownie mix boxes provide less batter than cake mix, which is why one box of brownie mix only yields about 9 standard cupcakes as opposed to the typical 24 when using cake mix.
Cupcake Tip: Keeping the top rims of your cupcake papers clean and free from accidental batter drips that brown and burn when baked, is one way to ensure elegant professional looking cupcakes. Using an ice cream scoop is a great way to neatly and evenly dispense batter into cupcake papers. Simply scoop the batter out of a bowl, scrape the bottom of the scoop on the rim of the batter bowl to avoid drips, transfer the scoop directly into the center of a cupcake paper, and pour. Multiple scoops may be needed to achieve desired amount for each cupcake.
Step 4. Place both tins of 9 brownies each, side by side in the oven, and bake according to the box directions allotted to the thickest style of brownies. – Usually about 30 + minutes.
Step 5. While the brownies are cooking, place 6 candy canes in a Ziploc bag and seal. Using a soup can, or any other can in your pantry, hammer the candy canes to create candy cane morsels. Do not hammer the candy canes into dust. You want to create pretty candy morsels, ranging in size between that of a chocolate chip and a mini chocolate chip, so that the red and white stripes can still be seen.
Cupcake Tip: When you remove your finished cupcakes from the oven, make sure they are fully baked by inserting a toothpick into the cake and being sure it comes out mostly clean. If the toothpick comes out heavily covered with cake, or gooey batter, bake for 3 – 5 minutes and test again. Repeat until the toothpick comes out clean, and the cupcakes are fully done baking. Always allow your cupcakes to cool completely before decorating.

Cupcake Tip: To top your cupcakes with frosting any time of year, you can use a professional piping bag and tip or a fancy frosting dispenser. But, if you don't have either of these baking tools, there's no need to run out and purchase any. Cupcakes can be beautifully frosted by using a simple quart or gallon size Ziploc freezer bag. Simply fold the top half of the bag over, and scoop the frosting down into one corner of the bag. Once the bag is close to full, press out the air, and seal the bag with the Ziploc strip. Cut a very small tip off of the corner of the bag and test your piping on a piece of foil, napkin, or plate. If the hole is too small for the design you desire, cut it a bit bigger.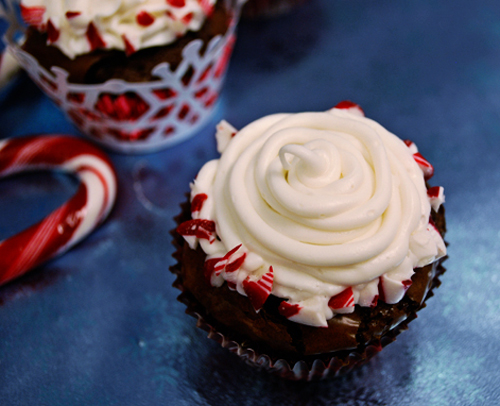 Step 6. Using a Ziploc bag, pipe frosting starting around the rim of the cake, and spiraling into the center like you would when dispensing your own soft serve ice cream cone. You can continue to build up the frosting in spirals to create a pretty little mound on the top of your cake, finishing it off in the center with a hook.
Step 7. Place the candy cane morsels one at a time around the rim of the frosting, taking care to press each piece in, with the red stripped side of the candy facing out.
Step 8. Serve cupcakes immediately, or store covered in the refrigerator for up to two days.
Cupcake Tip: For extra embellishment, add a festive cupcake wrapper and topper to each cupcake. A great selection of wrappers and toppers, including the ones shown here, can be found in my online cupcake store, or at your local craft or baking supply store. It's a great idea to buy your cupcake toppers, wrappers, and even box mixes, early, and store them until needed. Waiting until the last minute during the busy holiday season, can result in difficulty finding what you need, and in some cases items being sold out completely.
— Rachymommy is the author of MommyTopics. She's a Southern California native, wife to a software engineer, and mother of three young children. Visit her site for creative cupcake ideas as well as reflections on a wide variety of topics, important to Mommies.