Car Maintenance and Emergency Preparedness
We are a participant in the Amazon Services LLC Associates Program, an affiliate advertising program designed to provide a means for us to earn fees by linking to Amazon.com and affiliated sites. We participate in other affiliate programs as well. For more details, please see our disclosure policy.
Check out these easy organizing tips for emergency preparedness — both big and small — that you might encounter when on the road.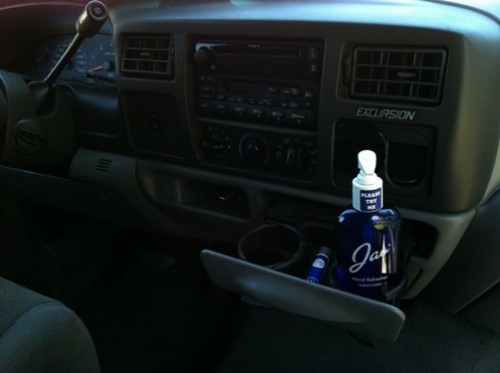 This month's Zone Defense assignment entailed getting your travel and transportation "stuff" in order. And this month we've done a lot of that. We made two road trips totalling 630 miles, had house guests twice, pulled out sleeping bags for a number of occasions, and hit the beach and local parks more than once.
Whew!
But honestly? Except for finally unpacking my suitcase from our trip out of town two weeks ago, I couldn't think of what to do for my zone defense work. Until I looked at the Scourge and realized that hubs had already done  a lot of the work. Yay!
In the past couple weeks, he's done the following:
wash
dejunk
vacuum
replace the brakes, rotors, and bearings
Isn't he amazing?! He saved us a ton of money doing it all himself. The Scourge is now a total pleasure to drive, all neat, clean, and able to stop on a dime.
The "problem" with this — and I say "problem" with quotation marks — is that the Scourge was left completely empty. Look!
This is a good problem to have, actually. I get that. At the same time, it's not realistic to drive around with six kids ranging in age from 4 to 16 without some kind of backup.
What will I do if I need to blow my nose and I can't find anyone's sweatshirt lying around in the backseat?
What will I do when I get to the store with no shopping bags?
What will I do if I open the window one foggy morning and all kinds of water drips on the door locks and auto-window panel, threatening to short it all out and I don't have anyone's grubby sock to clean it up with?
Where is my hand sanitizer and my chapstick?!
You get me, right?
I love the clean car. Love it! But, I also know that it needed to be stocked to make our future road trips and simple runs to the store a little more convenient. So, I set about stocking the Scourge.
Here's what I did: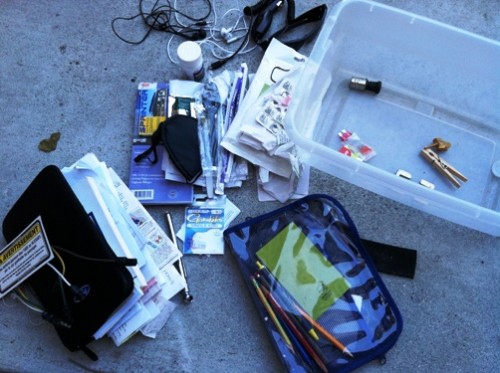 Sort the stuff.
I sorted through all the clutter that had come from the glovebox and console. Wow. Lots of junk. Half of it was repair records from the previous owners that I could file elsewhere and not cart around with us. A lot was trash. The rest got put away or relocated.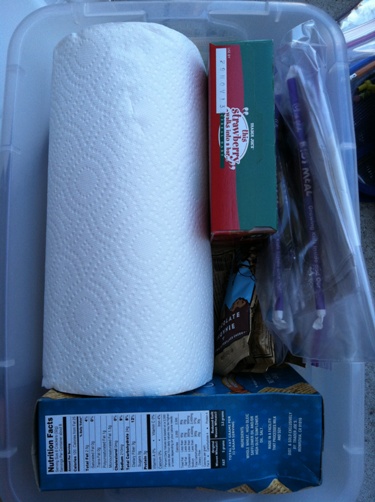 Create a snack box.
Recently, we went to a local amusement park in the late afternoon. We'd had lunch and didn't think we'd be hungry, but we were. Lamenting the fact that we didn't pack snacks, we succumbed to their $4 soft pretzel. My land! Not again.
I've got a snack box packed with nonperishables: protein bars, crackers, fruit bars, paper towels, straws, and plastic spoons. Now we're set.
While we probably won't need them in a true emergency, it's nice to know that in the case of earthquake, fire, or tsunami, we've got some victuals on hand. A small case of water bottles in on my list to add to the supply.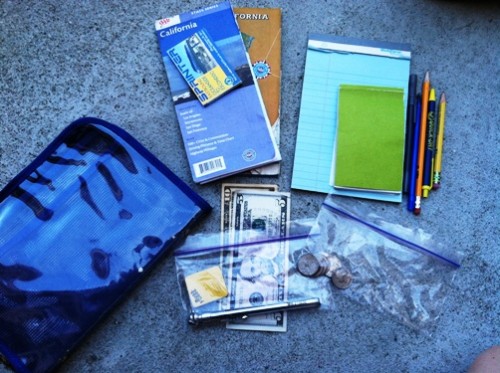 Pack a kit for travel emergencies.
I've had the gps lose its signal before. I've found myself at a parking meter without coins. I've needed to write a note and not had anything to write with. I've accidentally left my wallet at home.
All those problems are now solved with a few things packed in a cute little folder:
maps
notepad
pens and pencils
quarters
petty cash
a tire gauge
extra fuses
the local train schedule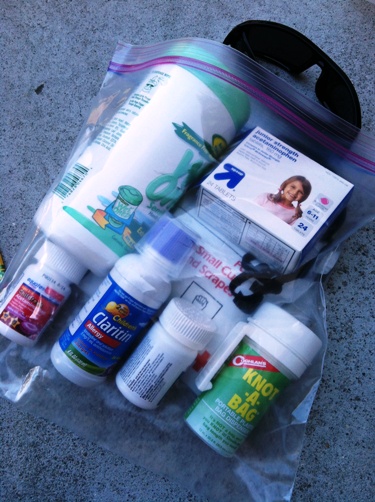 Assemble first aid supplies.
On both of our road trips this month, our kids needed meds for allergies and fever. I ended up going to a local pharmacy and paying the going rate. Now, I have a small apothecary with me in case we need it, including bandages and extra sunglasses, because, yes, we've bought those on vacation before, too.
7/1/13 Edited to add: A reader suggested in the comments that storing OTC meds in the car was unsafe. I have contacted a number of friends who are medical professionals. The jury is split three ways: no, yes, and I don't know. I am going to do further research. In the meantime, I've removed the OTC's from the car until I find a definitive answer. Please use your best judgement. I'm not a doctor, nor do I play one on TV.
Pack a just-in-case bag.
I also included a "just-in-case" bag which has extra sweatshirts and socks for everyone. It also holds a blanket and an umbrella.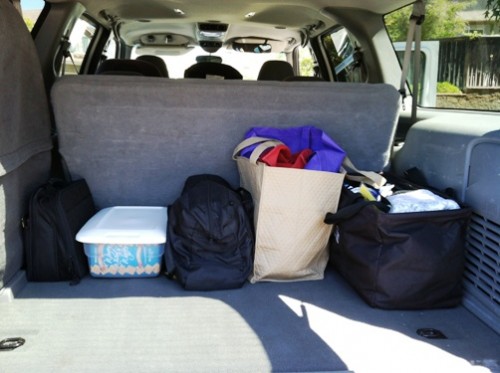 I loaded into the back: a roadside emergency kit, the snacks box, the just-in-case bag, my shopping bags, and our pool/beach bag.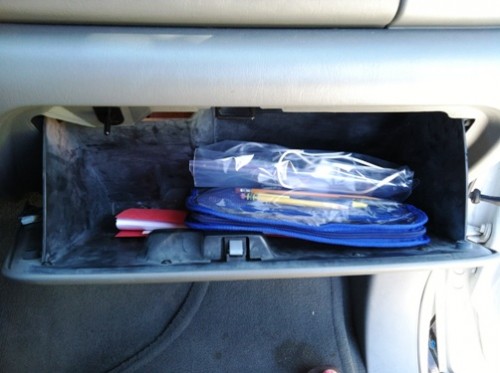 In the glove box is a red folder with registration and insurance, our blue pouch o' stuff, and some barf bags for the girls.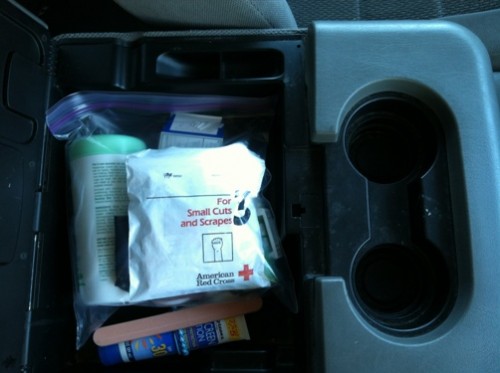 In the center console is the first aid, sunscreen, and a nail file.
You never know when you'll need to file your nails.
Basically, my car is like one big purse. And you can't carry around an empty purse, now, can you? It's interesting to note that since I packed our emergency kits last fall, I'm more aware of what we might need in the event of a real emergency. So many of the items that I added to the Scourge's load are supplies that would come in handy if we experienced a natural disaster away from home.
This is how we got on Zone Defense this month.
How 'bout you?