Catch a Free Flick Every Week This Summer
We are a participant in the Amazon Services LLC Associates Program, an affiliate advertising program designed to provide a means for us to earn fees by linking to Amazon.com and affiliated sites. We participate in other affiliate programs as well. For more details, please see our disclosure policy.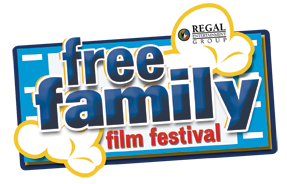 I told you last week how we have a plan to have fun this vacation. One of the action items on our To Do list is to go to the movies every week. Now while I love going "to the show," I don't love the prices they charge these days.
But, thanks to Regal Entertainment Group, I don't have to pay a pretty penny to give my kids the theater experience. Every week they are offering two free films (G and PG rated) during their free Family Film Festival.
Last summer the kids and I went and saw some movies that we loved, movies that surprised us, movies that I probably wouldn't have rented if given a choice. But, they were pleasant– and FREE surprises. And we made some great memories in the process.
This summer we're looking forward to seeing Aliens in the Attic, a film I've had on hold at the library for months. No need to wait any longer. Plus there are some old favorites like Cloudy with a Chance of Meatballs, Wallace and Gromit, and Kung Fu Panda, which will be a blast to see on the big screen instead of our itty bitty 20 inches.
There are a number of other ways to catch a free film. You just have to know where to look.
How do you like to see your films? At home or on the Big Screen?