This post is sponsored by Amtrak: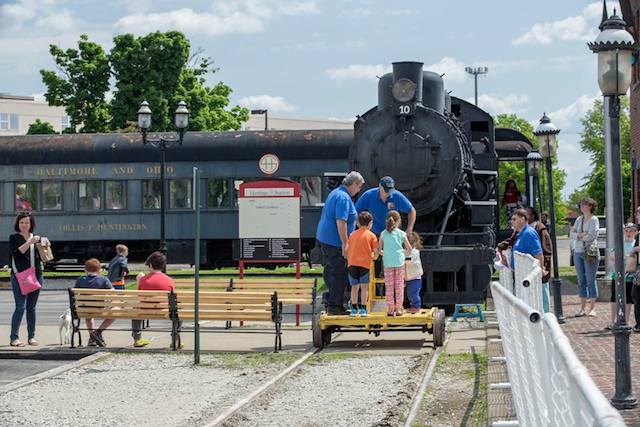 Ever since we sent in our Go-gurts box tops for a free Thomas the Tank Engine fifteen years ago, our family has been smitten with train travel. That one free wooden engine led all the grandparents to purchase the full set of wooden train tracks and accessories. These are keepers for sure. FishPapa himself has said that we're saving them for the grand babies.
Proof positive that the history of trains and train travel beckons to us. No doubt you've read stories where train travel played a prominent role, like the Little House books or The Railway Children, or watched television programs like Chuggington or Thomas the Tank Engine with your kiddos.
Plus, we love riding via train as well. I've done it both here in Southern California and in Europe. I love the hands-free, traffic-free travel. Personally, I'd rather take a train anywhere than fly. I hate flying. The kids can't wait until we hit Europe. Trains are one of the big attractions.
Kids of all ages are fascinated by trains!
Celebrate National Train Day
This weekend you can enjoy a train-filled day of family fun, National Train Day, sponsored by Amtrak.
Here are some things you can do with your kiddos: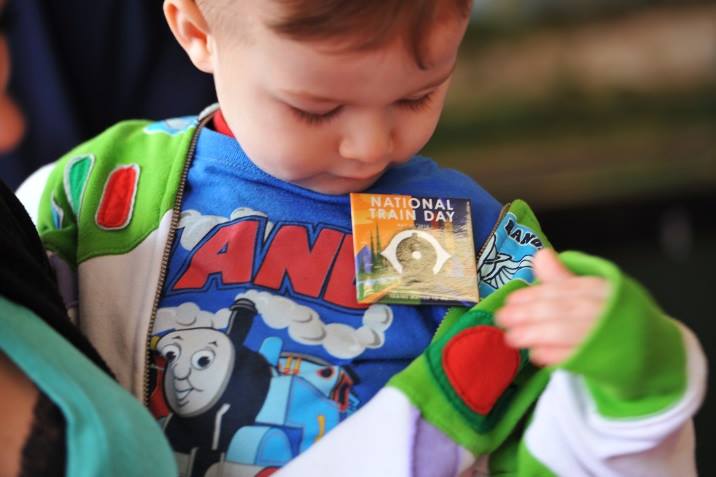 If you live in or near Albuquerque, N.M.; Cary, N.C.; Chicago, Ill.; Emeryville, Calif.; Jacksonville, Fla.; Kansas City, Mo.; McComb, Miss.; New York, N.Y.; Philadelphia, Pa.; Portland, Ore.; Rutland, Vt.; San Antonio, Texas; Seattle, Wash. and Washington, D.C. you will have the opportunity to check out some extra events and activities:
Kid activities: Chuggington, a Disney Junior program, will provide free train-themed kids' activities and hands-on learning stations including arts & crafts, photo opportunities, and train play tables. Some locations will be offering a screening of "Explorer Koko."
Video games: Dovetail Games will also be offering a free download of the Amtrak Pacific Surfliner version of the hit game "Train Simulator 2014." If you hit New York's Penn Station you can operate the simulation of the new Amtrak ACS-64 passenger locomotive and meet Gary Dolzell, co-creator of the content found in the game.
Giveaways: Operation Lifesaver, whose mission is to end collisions, deaths and injuries at railroad crossings and on rail property, will be offering giveaways and providing interactive opportunities to learn more about rail safety.
Historic Train Displays: Select National Train Day locations will host historic and unique rail train equipment presented by Amtrak Vacations.
In many locations, you can take a walk through Amtrak railcars and privately owned luxury train cars as well.
Follow along with the festivities: on Facebook, on twitter, and via the hashtag #AmtrakNTD
Where have you taken the train last?
Disclosure: I have been compensated for my time spent writing. All opinions are my own. Photos used with permission by National Train Day.