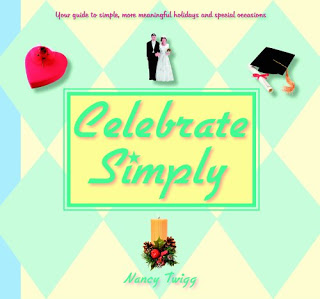 Thanks for all your great comments and suggestions, ladies! This Christmas in July thing is proving to be a great brainstorming session. Thanks so much for participating.
Our first giveaway is now closed.
My "random generator" is our Deluxe Bingo Cage! With FishBoy11 as my handsome assistant, we drew from numbers 1-54. The cage spit out #39….
Congratulations, Courtney! You have won a copy of Nancy Twigg's Celebrate Simply. Send me your address and it shall be on its way to you soon.
Y'all come back tomorrow morning for stocking winners as well as another giveaway!