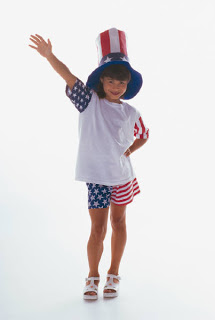 I have wonderful memories of the Fourth of July growing up. Sure, there were plenty of dud years; like the firecracker that fizzles without a bang, there were times when our family didn't really do much. But, the years that were exciting live in my memory. Some Fourths were spent in Minnesota with the cousins and uncles risking their lives to set off fireworks. Some were spent in CA, attending the town parade, complete with the clowns on mini motorcycles riding around at the end. And I always dressed the part.
Now that I am MOM, I try to find ways to make memories for our kids. Some years we head out to see the town fireworks, other years we just watch the neighbors' show from our back deck. Last year was hilarious to hear my five year old exclaiming over the "graham crackers" going off.
I try to include a BBQ and ice cream. (We're gluttons, I mean, foodies, over here, so food is always a part of the memory.) This year friends are going to come over for a "cookout" as they call it in these here parts. We'll have a simple meal of grilled meats and salads, and eat lots of ice cream. No clowns on mini motorcylces, but a memory in the making, anyway. I'll have to see if any red-white-and-blue clothes still fit this very prego bod of mine.
Since I love to surf for inspiration, I thought I'd share some of the finds I discovered on the world wide web, in case you decide to host a little shindig at your house this Friday.
Star-Spangled Crafts, Recipes, and Games from Family Fun Magazine
Treat Cup Craft from Kaboose
Eclectic Schooling has several fun and educational links to make Independence Day a "teachable moment."
And don't forget: Flag Ideas and Etiquette from Martha
Got some fun plans for Independence Day? Post them on your blog and come back Wednesday to share your inspiration with us. I'll have Mr.Linky waiting.