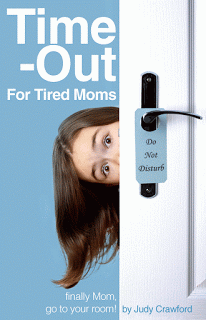 TIME's UP! THANKS FOR PLAYING. WINNERS WILL BE ANNOUNCED LATER TODAY.
Judy Crawford is a mom who can relate to you. She's juggled life with young children. She's carpooled and cooked and cleaned — and she can still keep a smile on her face. She's also written a devotional for moms, entitled, Time-Out for Tired Moms. Her heart is to help moms currently in the trenches. The subtitle of the book, "finally Mom, go to your room!" is an encouragement to separate yourself from the everyday, take a deep breath, and get a fresh perspective. And she does this in funny, easy to read language. You don't have to think a whole lot – just follow along and be refreshed.
That isn't to say that the book isn't thought-provoking. It is. But, she delivers her message in an easy way, one that doesn't feel like you've got another chore to tackle.
The book is set up as an 8-week study. Each week's reading starts with a list of practical things to do in order to take a "time out" from your everyday, such as do your nails or eat chocolate. (That's my kind of book!) Then there are five daily readings that each illustrate a lesson from her own life that all moms can relate to, a short prayer, an encouragement to your growth as a mom, and a few Scriptures to meditate on. I think it's a very thorough MOM tool and I'm enjoying working through it.
Right now you can purchase this book at a 20% discount from Ambassador International. Just use the code TOTM20 when ordering.
I have one copy to giveaway. Just fill in the form below for a chance to win it. If you answer the trivia question correctly, you will be entered to win. (Click through if you're reading this through a reader.) All the answers will be available on LifeasMOM. You just might have to poke around. All contests will end on Saturday, June 27th at midnight PST. Open to US addresses only.
I hope you win!