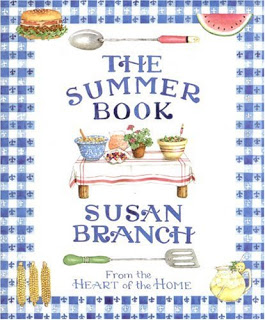 TIME's UP! THANKS FOR PLAYING. WINNERS WILL BE ANNOUNCED LATER TODAY.
You know how much I love to eat and cook. Over the years I've made it my mission to collect beautiful and delicious cookbooks. Those written and illustrated by Susan Branch are some of my favorites. They are full of restful, whimsical illustrations, yummy recipes, and tips and tricks for gracious living. Years ago I had the privelege of meeting Susan Branch at a book signing. She is just as lovely and gracious as her books are.
One of my favorites is The Summer Book. My own copy is fairly tattered and worn – as all good cookbooks should be. Some of our family's favorite meals have their roots in this book, like Grilled Shark with Peach Salsa. You can see some excerpts from the book here. You'll love her tips for setting a pretty summer table.
In honor of the first day of summer (that's today!) I am giving away one copy of The Summer Book. My treat!
In fact, I invite you to my weeklong scavenger hunt giveaways. Each giveaway will feature a form to fill out, including a trivia question. (Click through if you're reading this through a reader.) All the answers will be available on this site. You just might have to poke around. Enter all the information on the form, including your answer to the trivia question. If you answer correctly, you'll have a chance to win. All contests will end on Saturday, June 27th at midnight PST. Open to US addresses only.
I hope you win!