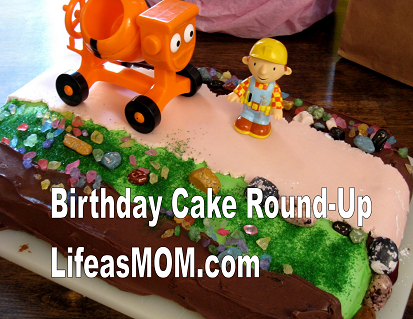 The next Birthday Cake Round-Up is fast approaching. It's a bi-yearly carnival where you can share your creative birthday cakes you've made for family and friends as well as be inspired by others' bright ideas. And a special feature of this round up is the FishMama Birthday Cake Challenge.
You know how your kid will come to you with this wild idea that he wants represented on his birthday cake? Well, this weekend, I'm letting you be the kid.
In the past, I've put myself at the mercy of my readers — and let them challenge me to a birthday cake theme. This Dave Ramsey Birthday Cake is what resulted from last year's challenge. Oh my!
That time is here again to try to stump me.
Submit your idea in the comments. Next week, I'll compile them into a survey for you to vote and then I'll share the cake I make based on that theme at the Birthday Cake Round-Up on the 27th.
Don't forget – you can get a free Birthday Party planning page this month.
So, what kind of cake should I make?