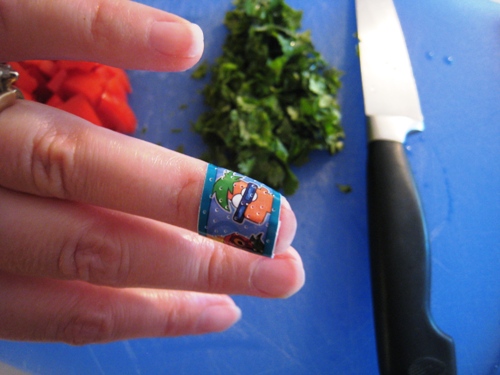 THIS GIVEAWAY IS NOW CLOSED. CONGRATS TO THE WINNERS: kanddbk@ and macampbell615@
I got a little zealous in my salsa making recently. Hubs had just sharpened the knives for me and I was relishing the ease with which I was able to do all my chopping and dicing. And as fate would have it, I nicked my finger in the process.
Thankfully, I had some very, very cool band-aids to put on.
I think my kids were jealous. You see we have some fun character Band-Aids on the premises, featuring well-loved characters as Phineas and Ferb, Cars 2, and the Disney Fairies. If you're a kid — or not — chances are your heart leaps just a tad when you get a glimpse of characters you love on a bandage.
I know my kids do. We're lucky to keep them in the house because all of a sudden the littles all have boo-boos and owies at every turn. It's suspicious, definitely.
And when shots or a real owie is present, it seems that the character really does make them feel better — or at least distracts them from the pain. Character bandages are like a badge of honor.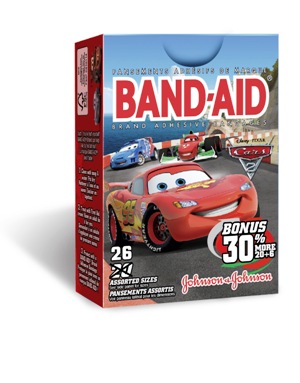 Recently, our family got the chance to see Cars 2. So fun! It was a blast. So many great scenes and clever Pixarisms throughout, I can't wait until it's on DVD so that I can watch it all I want.
This weekend Band-Aid and Neosporin are offering a great giveaway to LifeasMOM readers.
Two readers will each receive this Cars 2 Prize Pack including: 1 box of Cars Band-Aids, 1 box of Phineas & Ferb Band-Aids, 1 box of Disney Fairies Band-Aids, 1 tube of Neosporin and a $50 gift card to Fandango so you can hit the road with Cars 2. How fun!
To Enter:

Leave a comment, telling your experience with character band-aids.

This giveaway is open until Sunday, July 17th at 8 pm PST. Winners will be chosen randomly and notified via email. This post will also be updated with the winners' names. Please respond within 48 hours to claim your prize.
THIS GIVEAWAY IS NOW CLOSED. CONGRATS TO THE WINNERS: kanddbk@ and macampbell615@
Disclosure: I received a Band-Aid prize pack as well. No moms were seriously injured in the making of this post. It was just a flesh wound. All opinions are my own.