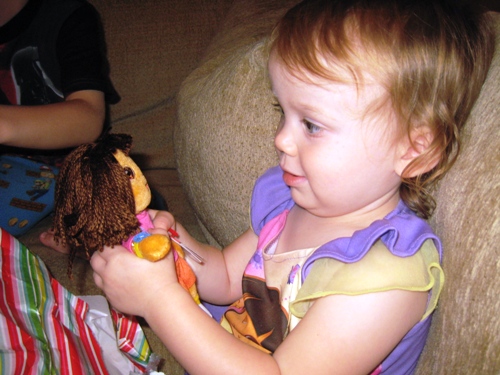 Each morning, one of the first words out of FishChick2's mouth is "Dora." And if you ask her which video she would like to watch, she'll say, "Dora." And if you ask her what color cup she would like, she answers, "Dora."
Clearly she has character issues.
Once upon a time — like before I had children — I decided that I would never buy character ware. No Power Rangers tennis shoes. No Spongebob tricycles. No Diego toilet seat covers.
But, somewhere along the way, my kids fixated on characters/things that didn't bug me quite so much as Power Rangers, Spongebob and Diego. (Smart kids.)
One kid's obsession with cows seemed kind of cute. Another's affinity for Bob the Builder passed muster, because after all, Bob was a carpenter just like FishPapa. And ya know, Tinkerbell is kind of cute.
When FishChick2 opened her birthday gifts, I surprised myself that I had accumulated so many Dora-themed items: a book, a doll, a few toys for atop the cake. Needless to say, she was ecstatic.
I know from experience that she won't be a Dora fanatic when she's 12. In fact, this will probably wear off in a couple years. In the meantime, she's enjoyed some fun experiences, and I will have sweet memories of her Dora phase.
How do you handle character issues at your house?