Note from Jessica: You know that I am fairly passionate about improving our family's diet. I don't have it all figured out; I'm constantly learning and refining my definition of "healthy". I love learning from people. Today regular Life as MOM reader Tiffany shares her new ebook, a whole-foods solution to commercial protein supplements.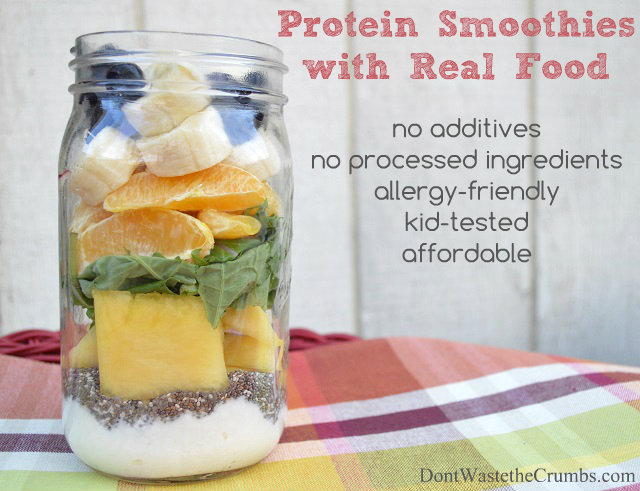 When I first considered writing a book about protein smoothies, I thought my audience would largely be the currently buff, want-to-be-buffer tan dudes you would typically find at the gym.
Surprisingly, I was completely and utterly wrong.
The majority of readers are nothing like that at all. In fact, they're a lot like me:
Female caregivers of family.
Concerned about eating better food and living healthy lives.
Trying to manage their household without going too crazy, and their finances without going broke.
One of the issues that I deal with regularly is making sure my kids eat enough protein. Every cell in the human body requires this nutrient and with growing bodies and developing brains at the helm of my dinner table, it's even more important that protein be plentiful in their diets.
The simple answer is to eat more meat. Unfortunately, quality meat is expensive and we can only afford so much each month with our small grocery budget. So then, what am I supposed to do for the days when we can't have a whole roasted chicken at the dinner table?
Nowadays a common answer would be to make protein shakes with protein powder or simply toss a few protein bars into the shopping cart. A tall, chocolate-flavored beverage or a snack bar packed with 20g of protein – surely that will keep the hungry tummies at bay until dinner is ready, right?
Unfortunately, the additives and processed ingredients in commercial protein supplements makes them no healthier than a deep fried Twinkie. Even the "healthy" varieties are more of a cause for concern than an ode to good health.
In my book High Protein, No Powder I explain the real dangers of processed protein powder:
Protein isolates are processed using hydrochloric or sulfuric acid and then stripped of the nutrients the body needs to digest them.
Monosodium glutamate (MSG) is created as a side effect during the manufacturing process and it's known to cause obesity, stunt growth and increase symptoms of neurological diseases.
Artificial sweeteners are added to appeal to the taste buds of the masses, all the while causing gas, bloating and diarrhea in unsuspecting consumers.
Unsuspecting consumers like me. Like you. Like our husbands and our children.
Fortunately, there's a better way to feed the bodies of those whose nutrition we're responsible for. It is entirely possible to offer both quality and affordable protein that isn't made with sludge and doesn't come with side effects or warning labels.
You can replace these commercial protein supplements using only whole foods – food that is found in God's perfect creation instead of being created in a Petri-dish, in a lab, by someone wearing a lab coat.
Nuts, seeds, beans, greens and even some cheeses are super high in protein, yet aren't typically consumed as "protein supplements." But what if they were? What if we viewed "protein supplements" in a new light?
Would your family turn their nose up at raspberry lemonade or strawberry cheesecake smoothies?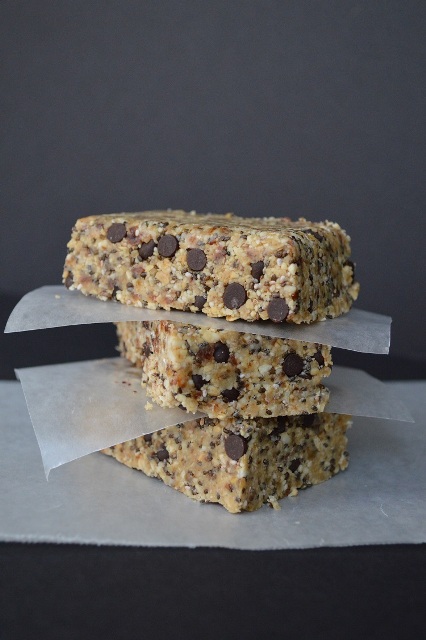 Or an apple pie or chocolate peanut butter protein bar?
High Protein, No Powder offers 34 delicious recipes that are both kid- and husband-approved. They're designed for the mom who has to balance picky eaters with food allergies. They're easy to make, very affordable and best of all, there's not a processed powder in sight!
I'd like to extend an offer to Life as Mom readers to save 30% on a copy of High Protein, No Powder. Use coupon code LAMSAVE30 to save a few bucks on both the "Just a Slice" and "The Whole Pie" packages of High Protein, No Powder. If you were ever looking for an opportunity to feed your family more protein with less processed junk, there's no need to look any further!
Go here to learn more about the ebook.
Tiffany is a frugal foodie – passionate about feeding her family healthy food while being a good steward of her family's finances. She's a homeschooling mother of two, loving wife to one and a child of God blessed in more ways than she can count. She shares her enthusiasm for affording real food without going broke at Don't Waste the Crumbs. Join Tiffany and the Crumbs Community on Facebook or Pinterest, and subscribe to the weekly newsletter for encouragement on taking small, simple steps to healthier living.