I'm ready to call it a day, folks. I didn't think doing side dishes and baked goods would be as difficult as it was. But, part of that was that I aimed a little too high for fear I would shoot too low. Need to work on my aim next month, and I'm definitely getting help no matter how long my list is. (Mom, Jamie, mark your calendars for this time next month, please. Come watch kids and help me cook.) Wow, that was easy.
OK. Last things on my list….I decided to pass on the Cheesy Potatoes. The garlic mashed potatoes look so yummy; we'll have those with Easter Dinner instead. (Can you tell I was getting desperate to end my list?)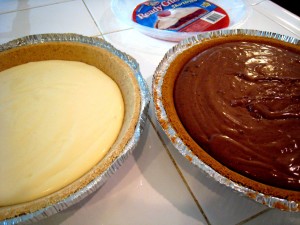 Not too desperate to cross off the Cheesecake, though! Instead of making one big cake like I usually do, I experimented and made two smaller ones. The reason? I could not find chocolate graham crackers anywhere and since I already had some premade crusts in the pantry, it seemed like a natural tweak. And Nanna (my mom) is coming next week and she doesn't like chocolate, this made it easy for me to please her tastes, too. I left one cheesecake plain and added half the called for chocolate to the other one. As you can see, there isn't quite the even distribution of chocolate to vanilla, but that is as it should be. No?
I had quite a few things standing in line for the oven at one point with Chocolate Chip Banana Bread lined up ready to be baked after the cheesecakes. This bread is pretty easy to make and freezes really well. My kids easily go through one loaf at snack time. So, I baked up three loaves and will pop them in the freezer when they are cool. If they last that long!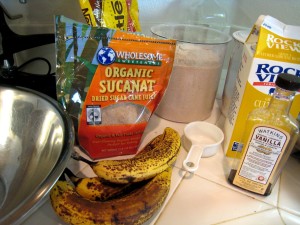 And I also mixed up a batch of Whole Grain Cinnamon Rolls in the bread machine and packaged them according to Amy's recommendations for freezing ahead of time. I'm looking forward to see how these work with my recipe.
I'm so glad to be done! Here's what I did this week. No wonder I'm tired!
taco meat
shredded chicken
beans for beans and rice
red sauce for pasta
Roasted Garlic Mashed Potatoes
Garlic Foccacia
Crystal's Butterhorn Rolls
Basic Pancake Mix
Maple Granola with Oats, Nuts, and Seeds
Instant Oatmeal
Whole Grain Cinnamon Rolls
Chocolate Chip Banana Bread
Chocolate Cheesecake

plus, Crouton Cubes
I got almost everything done on my list, there were no casualties at my house while I did it, and our freezer is stuffed to the gills. Now, to put my heels up and enjoy the weekend. I hope you will do the same.
If you haven't already, pop over to MoneySavingMom where you can see what others have done this Freezer Cooking Week.
And then get ready for next month! What's your excuse? There's no law says you have to freezer cook, but if you want to, I know you can!