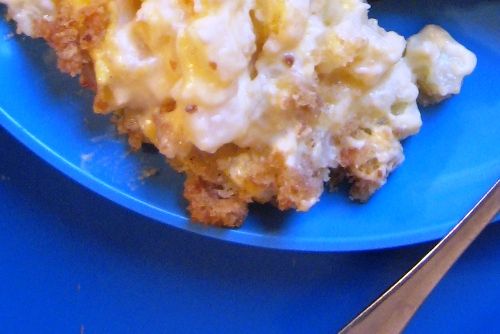 This is an all-time favorite with everyone except one FishBoy. (He does not do cream of chicken soup in anything.) You can make these ahead of time and pop them in the oven a few hours before serving. So good.
Recipe: Cheesy Potatoes
Ingredients
2 cans cream of chicken soup or use this homemade cream of celery version
1 cup sour cream
1 cup grated cheddar cheese
1/4 cup minced onion
salt and pepper
32 ounces frozen hashbrown potatoes
1 cup crushed cornflakes, cracker crumbs, or bread crumbs
3 Tablespoons melted butter
Instructions
Grease 9 x 13 inch baking dish.
In large mixing bowl, combine cream of chicken soup, sour cream, cheddar cheese, and onion. Mix well. Season this mixture with salt and pepper. Stir in potatoes. Spoon this mixture into the prepared baking dish.
In small mixing bowl, combine crushed cornflakes and melted butter. Sprinkle over the potato mixture. At this point you can wrap the dish and freeze it for up to 2 months. Continue with the recipe.
Bake for 2 hours at 325 degrees.