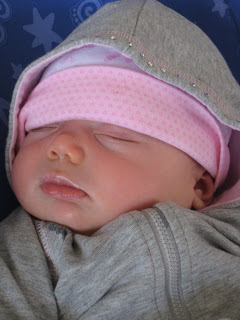 Can you believe my baby is already six weeks old? It seems like yesterday I was in the hospital, stressing about her eye and all the things that could possibly be wrong with it.
And here we are. Her eye is perfectly healed. And we are now in another home, another state, and she isn't yet two months old.
You've come a long way, Baby.
If I didn't say it before, THANK YOU! Thank you to everyone who prayed for me during my pregnancy and labor and delivery and now postpartum seasons. The last six weeks, though not without their challenges, have gone by really well. I am so thankful for the way that God has sustained me through two major life upheavals in such a short period of time. Thanks for watching and praying. He has been so good to us!
I still haven't found the "new normal." I am struggling to get the day-to-day routines in place and to get our school schedule back up to speed. Thankfully, FishPapa goes in to work early and gets off early, so I am not alone in managing all there is to manage.
In fact, we've had some great conversations the past few days, trying to determine what we'd like life to look like. While we know our plans are always subject to His plans, it's nice to think through these things together and set some goals. I really feel like I can't quite get my head in the game. So, your prayers to that effect are appreciated! I want to be efficient in how I spend my time and — let's face it — actually get the chores done once in a while.
And at the same time, I want to enjoy chillin' with my little homegirl and the rest of my peeps.