These Chocolate Butterhorns are a delicious addition to your breakfast or dessert table. They are perfect for freezing which makes them perfect for snacking anytime.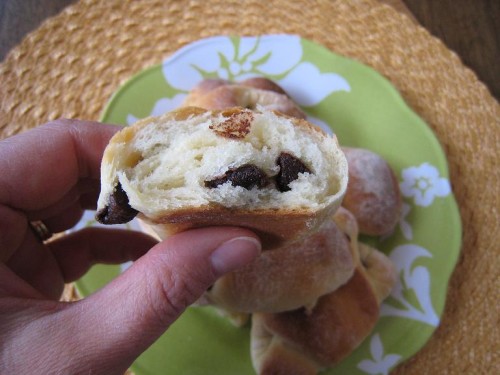 So, my friend Crystal has this Butterhorn Recipe that is a great make-ahead recipe. The rolls freeze, thaw, rise, and bake deliciously. I made them during last month's freezer cooking, and our family has enjoyed them immensely. If you make them just as Crystal directs, you will be quite pleased.
However, since I am a little bit lazy scared of my Kitchenaid Mixer AND a little bit of a sweet tooth, I decided to tweak the recipe a little bit. I adapted the dough recipe to fit a standard bread machine AND I added chocolate to the finished product.
AND oh my word!
These are really yummy. In my recipe testing, the batch of 32 small rolls never made it to the freezer. I ended yanking the pan that was flash freezing and baking those as well.
These are that good. Easy, make-ahead, and delicious — what more could you ask for in a recipe?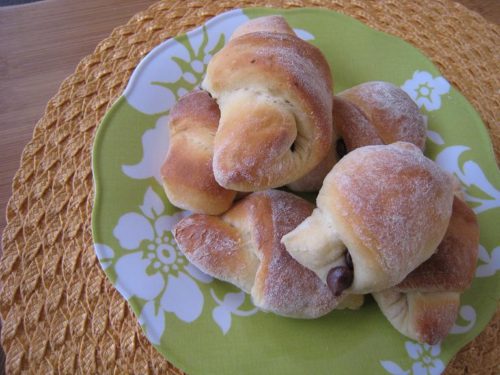 Chocolate Butterhorns (makes 32 rolls)

Dough:
1 cup milk
1/2 cup butter, cubed
2 eggs
1/2 cup sugar
4 – 4 1/2 cups flour
1 teaspoon salt
1 Tablespoons dry yeast, heaping

Rolls:
1-2 cups chocolate chips, depending on how chocolatey you want them

Combine all dough ingredients in the pan of your bread machine according to the manufacturer's directions. Set on the dough cycle and start machine. When the machine beeps, remove dough from pan and divide it into four equal parts.

(While Crystal's recipe make 32 larger rolls, I made the same number with about half the dough. This seemed to work better for my kids. Feel free to make 16 larger rolls if you'd rather.)

Roll each part into a 12-inch circle and cut each circle into 8 wedges. Sprinkle chocolate chips over the surface of each wedge. Roll each wedge like a crescent roll, starting with the bottom of the triangle and ending with the point.

If preparing ahead, place rolls, point down on baking sheet and freeze. Once frozen, place in freezer bags and store in the freezer until needed.

To bake: Grease a baking sheet or line with parchment or a silpat mat. Place frozen rolls on prepared sheet. Allow to thaw and rise for five hours or until doubled in size. Preheat oven to 375 ° and bake rolls for 12-15 minutes, or until lightly browned. Cool on wire racks.
FishPapa lucked out and there were still a few rolls left when he came home. Upon consultation, we decided that these would be "over the top" if they were brushed with melted butter and sprinkled with cinnamon sugar. Let me know how it turns out if you try them.