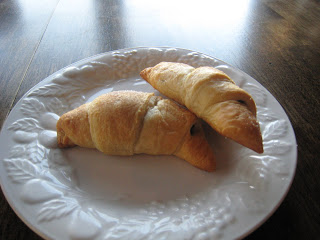 The francophile in me just can't call these croissants. They're just Pillsbury refrigerated crescent rolls gussied up a bit. But, they do resemble, in an Americanized way, the pains au chocolats (or chocolate croissants) I ate in France.
These are an easier cheat than the traditional way. The recipe is only problematic in that the kids could each eat four or five of them, and Pillsbury has gone expensive on us. I'm so old I remember when the cans would go on sale for 25 or 50 cents! Stock up now that the holidays are here, and they're pushing lil' smokies and crescent rolls.
Make sure the kids help you prepare them.
Pillsbury refrigerated crescent rolls
chocolate chips, preferably dark
granulated sugar
Heat oven according to package directions. Open can and separate crescent rolls. Sprinkle surface of triangle with 10-12 chocolate chips. Roll up, starting at bottom of triangle, rolling toward point. Place on ungreased cookie sheet. Sprinkle with sugar. Bake according to package directions.