We made a wonderful discovery this  month when we were baking our Christmas Cookies. Oh my! What a happy accident!
Years ago I discovered this recipe for Chocolate Mint Snow Top Cookies. It was basically a chocolate crackle gone minty. I tweaked the original in altering the form of baking chocolate used. But, I've been meaning to try this tweak for quite some time.
This year, I finally did it. I took the basic dough, thickened it with a tad more flour, simplified it with cocoa, and then put a mint chocolate Hershey kiss in the center.
I assumed that the kiss would hold its shape when I baked it. Obviously, I don't regularly bake with Hershey's kisses, because they did not. The first batch had half melted kisses in the center. Kind of like lopsided party hats.
I quickly googled "peanut butter blossoms" and Facebooked my woes only to discover that you're supposed to put the kiss on after baking. Well, that still resulted in half melted kisses in the center.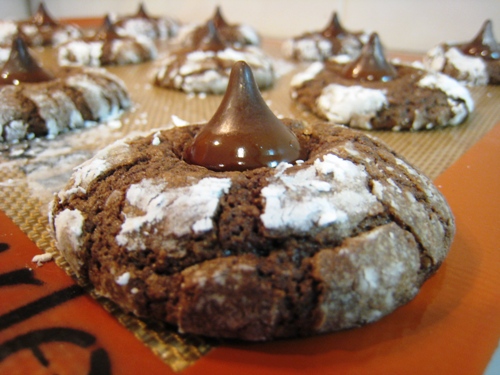 See how the heat from the cookie is migrating up the chocolate mountain? The chocolate kiss eventually sank into itself.
Well, I don't like to look at ugly cookies. So, I played around. I poked the little tip into the pool of melted chocolate and found that I liked the look better. I got out my offset spatula and set out to smoothing the tops of all the kisses. And I love the look! And the taste. Oh my!
You have to try these this year.
Recipe: Chocolate Mint Kiss Cookies
Ingredients
1 1/2 cups all-purpose flour
1 1/2 teaspoon baking powder
1/4 teaspoon salt
1/2 cup cocoa
1/2 cup butter, softened
1 cup sugar
6 Tablespoons brown sugar
2 eggs
1 1/2 teaspoons vanilla
1/4 teaspoon peppermint extract
Hershey chocolate mint kisses, wrappers removed
powdered sugar for rolling
Instructions
Combine flour, baking powder, cocoa, and salt; set aside. Beat butter with a mixer on medium speed for 30 seconds. Beat in sugars until combined. Beat in eggs, vanilla, and mint flavoring. Stir in flour mixture.
Preheat oven to 350*F. Shape dough into 1-inch balls and roll balls in powdered sugar. Place balls about 2 inches apart on an ungreased cookie sheet. Press kisses candies into the center of each cookie ball.
Bake in preheated oven for 10-12 minutes or until tops are crackled. Cool 2 minutes on cookie sheet. Transfer to wire racks. Smooth the tops of the chocolate kisses with an offset spatula. Cool. Makes 42.
Place in layers separated by waxed paper in an airtight container; cover. Store at room temperature for 3 days or freeze for up to 3 months.
Yield: about 42 cookies