Choose Happiness Now
We are a participant in the Amazon Services LLC Associates Program, an affiliate advertising program designed to provide a means for us to earn fees by linking to Amazon.com and affiliated sites. We participate in other affiliate programs as well. For more details, please see our disclosure policy.
Do you find yourself saying, "If only ________, then _________"? Life as MOM contributor Deanna shares with us her struggles with this "life is easier up ahead" mind game.

My discontentment started during pregnancy.
We had gotten a unexpected and scary prenatal diagnosis, so I wished away the last 20 weeks of my pregnancy. "If only she would be born! If only we could meet her! Then this would all be so much easier."
She was born. She had a long hospital stay. "If only she would come home from the hospital! Then motherhood would get better."
She came home. On oxygen. "If only she would get rid of her oxygen machines! Motherhood would be sooo much easier if I didn't have to drag this machine around with my baby everywhere."
She got off oxygen. I became pregnant with baby #2.
Then it became: "If only I wasn't so sick and pregnant while chasing around my toddler, motherhood would finally be easy."
Then: "If only he would be born already. THEN I will finally rock this motherhood thing."
He was born. He didn't sleep.
"If only he would sleep…."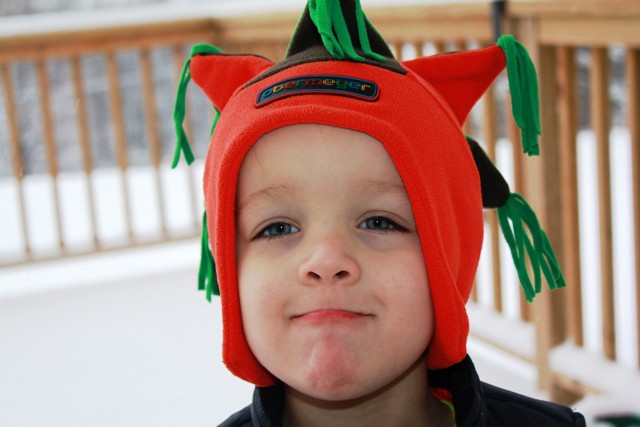 As I look back on the last 5 years of motherhood, I see a sad pattern. A pattern in experiencing difficulty and wishing myself into the next stage because from my rosy tinted future glasses…the next stage ALWAYS looked easier. And more fun. And with a lot more like the stock pictures in my mind promised motherhood should be.
I now have 3 kids. Lately I have been looking around my small house and thinking "If only spring would come! They are all climbing the walls and I am going crazy! Once spring gets here…THEN this will be the fun gig I signed up for."
But then as soon as I think the words, I stop myself. I have seen this pattern before, and I have fought against this tendency many times.
It doesn't get easier. It never does.
Sure newborns begin to sleep through the night and toddlers walk on their own and preschoolers finally follow instructions, but with each new stage there are new difficulties.
I refuse to participate in this "easier up ahead!" mind game any longer.
So I say no.
No it will not be easier when spring gets here and we can get outside and take long walks and explore. Because when spring comes, new problems will come with it. Like mud and bugs and escaping children.
So I look at today, I stare out the window at the snow covered landscapes, I feel the 3 children climbing up my legs as I try to do my chores, and I embrace today.
I embrace the now.
I embrace being stuck at home in long snowstorms (and am thankful when we don't run out of milk). I embrace the messy sticky phase times 3. I embrace the long hugs and the wet kisses and the bare feet pounding the floor as they all run away from me…hiding (not very well) that loaf of bread that just disappeared from the cooling rack.
No, it's not spring. Yes, the physical demands in mothering 3 small children exhausts me daily. Yes, at times my job can seem hard and unrewarding.
But I embrace all of that. Even more than that, I am content in it. Because I know that the "easier" up ahead is just a mist in the air taunting me with idealistic stock photos that my mind won't shake.
So I decide. I don't need things to change to find happiness in motherhood. I choose happiness now.
For I have learned, in whatsoever state I am, therewith to be content. Philippians 4:11 (KJV)
Are you choosing happiness now?
Related Posts:
Deanna is passionate about special needs advocacy and new motherhood- two things that go hand in hand for her right now. Three kids four and under, the oldest of which has Down syndrome- keeps her quite busy. But there's always enough time left at the end of the day to write all about the insanity at her blog Everything and Nothing from Essex. And to laugh- always, always there is time to laugh.
Technically labeled a "special" mother, Deanna really finds nothing special about herself. Truly, special needs parenting is just about taking it one day at a time- enjoying the highs, sloughing through the lows, and stumbling through the mundane while drinking too much coffee. Read all of Deanna's posts here.