The weather is warming up, and summer is right around the corner. Now, with upcoming graduations and weddings to attend, is the perfect time to find a dress that fits you perfectly! Life as MOM contributor Rena shows you how.
Here are three typical body types and three cute dresses that are available for purchase right now: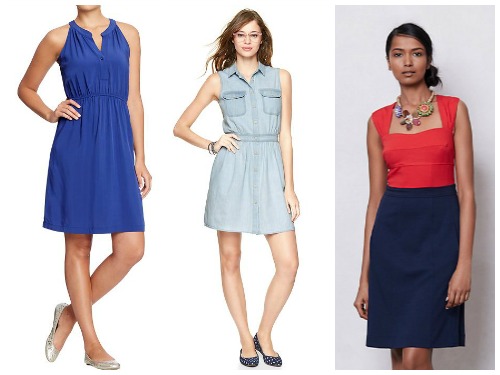 Pear Shape
This body shape is typically defined as shoulders and chest that are narrower than hips. With this shape it is important to remember not to wear clingy fabrics or an overly full skirt as this will emphasize the bottom half. V-necks or embellished tops are important because they draw the eyes upward with the focus on the top half. This can also be done with a statement necklace. Most importantly try to balance out your proportions with a fitted waist at your natural waistline and a slightly a-line skirt.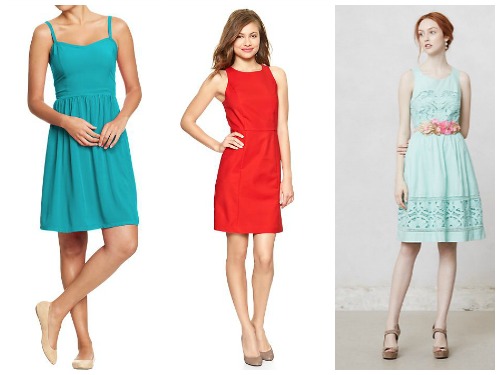 Hourglass Shape
This body shape is evenly proportioned on chest and hips with a small or narrow waist. Fortunately the style of dress that is popular right now works well with the hourglass shape. Make sure to get dresses with a waist line at your natural waistline to accentuate curves. This can be done fairly easily with wrap dresses or belts. Pencil skirts that work with your hips are flattering as well as peplum skirts.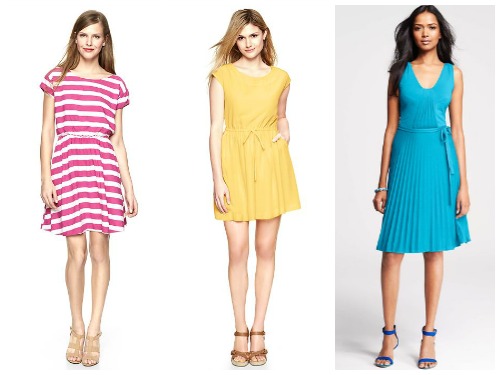 Rectangle Shape
This shape is commonly referred to as "boyish" with it being very straight up and down with little definition in the waist. Try to focus on adding volume to the bust & shoulders as well as creating curves. A flared skirt give the illusion of an hourglass and pairing your dress with high heels can add to your curves.
If you are quite skinny, it would be good to stay away from high necklines or heavily structured dresses as this emphasizes a small chest. Rather stick to scoop, v-necks or drapey fabrics that add bulk in the right places, while being pulled in at the waist with a belt.
Printed Flare Dress from the Gap
Cap-sleeve drawstring dress from the Gap
Pleated Jersey Tank Dress from Ann Taylor
Most importantly, always remember that shapewear is your best friend and can help compress areas for more curve, as well as tighten and lift your lower half.
Editor's note: Don't go into sticker shock when you see the price of some of these dresses. We don't have the budget for $150 dresses, either. But, if you go shopping — even to Target or a thrift store — with an idea of what suits your body style, you'll have more fun and be more successful in finding the right look for you. Use these examples as a guide. You might not love it on the rack, but you could be surprised at how great it looks on your body.
Rena, aka "the girl with the smile", is an optimistic style blogger in San Diego. Learning about fashion through trial & error (high school years were pretty awkward), she loves fashion and the ability to create a look and boost self-confidence through clothing. Since Rena lives with all men (husband and two sons), she needed an outlet for her fashion knowledge, so she started the blog The Girl with the Smile.