Chores: Sometimes You Gotta Spell It Out
As an Amazon Associate I earn from qualifying purchases. For more details, please see our disclosure policy.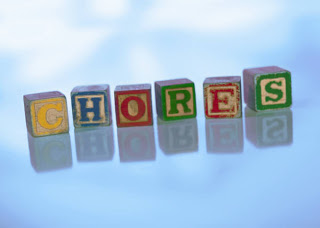 I've mentioned before that each of our children above four years of age has regular chores to perform around the house. The quality of their performance ebbs and flows with the seasons, their attitudes, and my follow through.
Recently, we were struggling with one job and his ability, or lack thereof, to clean the living room. We, the parents, were wondering if he couldn't do, wouldn't do it, or just needed some encouragement. The jury is still out on that one. But, the conversation did, however, lead to some helpful changes. FishPapa requested that I figure out some way to expressly communicate what needed to be done when a child was assigned the task of "cleaning the living room."
What resulted was this. It's a sheet that I taped to the wall that literally spells it all out. Step-by-step instructions as to what needs to be done before the kid can say his job is done.
How to Clean the Living Room

1. Pick up the pillows and put them on the couches.
2. Fold the blankets neatly and place one on each couch or chair.
3. Pick up the books and take them to the school room.
4. Pick up any trash and take it to the kitchen trash can.
5. Put movies, video games, and remotes in the drawers.
6. Deliver clean clothes to their rooms.
7. Take dirty clothes to the laundry room.
8. Gather baby stuff and place them neatly in Baby's corner.
9. What else is out of place? If you're not sure what to do, ask a parent.
Yes, I know, it seems a little OCD. But, it works! Every kid who can read can consult the list, take a look around, and know where to start. It is a fantastic tool to getting that task taken care of. Now if only I could get around to making lists for every room.
What do you do to help your kids do their jobs right? Share it in the comments!
Related:
(My Brood) Works for Me
Making a Clean Sweep
For more great ideas, check out "Works for Me Wednesday" at Rocks in My Dryer.