Merry Christmas! Today's the 8th day of Christmas! And I've got a fun giveaway for you. This post does include affiliate links. If you don't win, you can always go buy one for yourself or for a friend.
This giveaway is now closed. Congrats to the winner: judithmtw@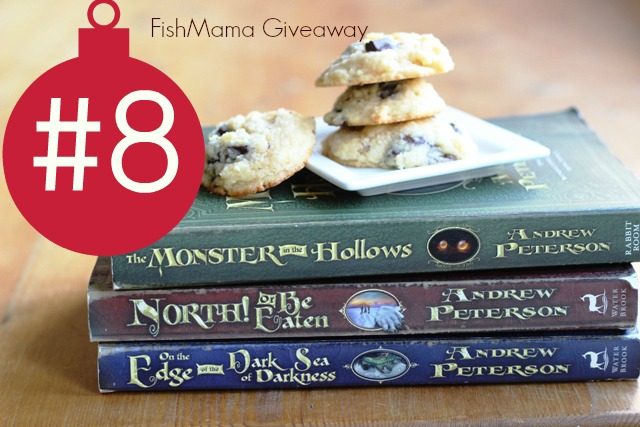 The kids and I just finished rereading all of The Wingfeather Saga, one of our favorite book series. The author Andrew Peterson is a Christian singer and songwriter who also crafted a four-part series that is full of action, adventure, and humor for the whole family.
On Christmas Day we received a 30-chapter preview of the final book. Last night we finished reading it together. I probably don't have to tell you that we are eagerly awaiting April and when we receive the final book, The Warden and the Wolf King.
We'd love for you to enjoy the adventures of Janner, Kalmar, and Leeli Wingfeather. This present, chosen by me, for you, should help you do that:
To Enter:
Simply complete the information on this form. Please know that the information is only being gathered for the purposes of mailing you your prize in the event that you are chosen as the winner. This information will not be sold, traded, or given away.
This promotion is open until Sunday, January 5 at 8 pm PST and is limited to US residents, 18 years or older. Friends and family of Jessica Fisher and Life as MOM are ineligible for entry. The winner(s) will be chosen randomly. This post will be updated with the beginning of the winner's email address.
The prize for this promotion is provided by and shipped by Me, Myself, and I. However, we (Jessica Fisher and Life as MOM) will not be held responsible for unclaimed or undelivered prizes. I'll do my best to get it off in a timely manner, but after that, it's the mailman's job to get it to the right place. And if you plan to move, please give me the new address.
Check out more giveaways here. This giveaway is sponsored by my family, as our way of thanking the Life as MOM community for being faithful readers and for loving our family.
We want you to know that what you do for YOUR peeps is important.